Ten of the best things to do in Vancouver
Frequently voted one of the 'most livable city in the world', Canada's epic West Coast city dazzles with soaring skyscrapers, sandy beaches and snow-capped mountains. Follow Canadian Sky's guide for ten of the best things to do in Vancouver, British Columbia's adventurous metropolis.


Spend the afternoon at Vancouver Art Gallery
What: Housed in a turn-of-the-century Neo-Classical building that once served as a courthouse, the largest public art museum in Western Canada houses a highly-acclaimed collection of national and international contemporary art. Established in 1931, the gallery hosts rotating exhibits of sculpture, photography, video art and graphics from renowned masters and emerging contemporary talents. There are over 9,000 works of art in the ever-growing collection, including a significant number of paintings by British Columbia's beloved modernist Emily Carr.
How: Occupying an entire city block in the heart of downtown Vancouver, the gallery can be accessed from either Hornby Street or Robson Street Plaza. Open daily 10am to 5pm and Tuesdays until 9pm, the entrance charge is £11 for adults and £4 for children. There are four floors displaying inspiring arty pleasures and a special family programme on weekends featuring hands-on workshops. Stop for lunch at Gallery Cafe which showcases European and West Coast inspired fare, and shop for souvenirs at the Gallery Store.
Browse at the Public Market on Granville Island
What: Once known as Industrial Island, Granville Island was home to factories, plants and sawmills in the 1900's. Nowadays this 'island' - which is actually a small peninsula that is attached to the south shore of False Creek - is home to Granville Island Public Market, a shopping paradise housed in a 50,000 square foot building where it is impossible to leave without buying something.
How: Take the inexpensive and fun rainbow-coloured Aquabus or False Creek Ferry from Yaletown or Sunset Beach to Granville Island, the heart of which is the huge indoor market. Open daily from 9am to 7pm, this cuisine connoisseur's paradise tempts with a staggering choice of meat, seafood, wine, baked goods, cheese, fast-food and other gourmet goodies. There is also an abundance of stalls selling arts, crafts and souvenirs. Watch street entertainers in the Market Courtyard, discover shops, galleries and artisans' workshops in the surrounding streets or simply people-watch by the waters edge. During the summer, Granville Island Farmers' Market operates here every Thursday from 10am to 7pm.
Marvel at First Nations Artwork in the Museum of Anthropology
What: Opened in 1978 on the University of British Columbia's Vancouver campus, this 66,000 square-foot Arthur Erickson-designed is set on the cliffs of Point Grey. Celebrated for housing one of the world's finest collections of Northwest Coast Native art, renovations completed in 2010 have more than doubled the gallery space. The museum is home to over 500,000 cultural artifacts including aboriginal sculptures, ceremonial masks, canoes, feast dishes, jewelry, carved boxes and more.
How: History lovers will be wowed by the magnificent high-ceilinged Great Hall complete with its displays of dozens of massive full-scale totem poles and carvings. Another highlight is 'Raven and The First Men' by British Columbian First Nations artist Bill Reid; a picture of this iconic sculpture appears on the back of every Canadian $20 bill. Admission is £10 for adults and free for children aged six years and younger.
Enjoy traditional afternoon tea for two
What: Afternoon tea is a beloved ritual in this former British colony and there are plenty of places to enjoy finger sandwiches, freshly baked scones with jam and clotted cream, home-made cakes and exclusively blended teas. The most stylish spot in Vancouver is the Fairmont Hotel Vancouver - a historical property known as 'The Grand Lady'. Afternoon tea is served in the elegant 900 West Lounge and costs £24 for adults and £12 for children.
How: Tea aficionados should also head to The Urban Tea Merchant located between Georgia and Alberni Streets in downtown Vancouver. Their Signature Afternoon Tea costs £30 per person whilst the Champagne Tea costs £49 per person. Another fabulous spot is Truffles Cafe located at the Visitor's Centre at the VanDusen Botanical Gardens. The budget option Tea for Two costs £17 and includes a three-tiered tray loaded with goodies and VanDusen's own private-label black tea that was blended in honour of HRH Duchess of Cornwall who visited the gardens in 2010.
Shop in Gastown
What: The once-seedy neighbourhood Gastown, named after the British seaman and gold prospector 'Gassy' Jack Deighton who opened the first saloon here in 1867, is located at the northeast corner of Downtown. Considered 'the birthplace of Vancouver', the cobblestone streets of this historic town are lined with Victorian buildings. Heritage monuments include a statue of Jack Deighton atop a whiskey barrel in Maple Tree Square and the iconic Gastown Steam Clock; powered by steam from underground pipes this clock dates back to the 1870's and chimes every 15 minutes.
How: Enjoying its retail renaissance, Gastown is now considered the hippest neighbourhood in Vancouver. Testament to this is the eclectic assortment of stylish bars, restaurants, nightclubs, interior design stores and art galleries. Famed for hosting the Vancouver International Jazz Festival and Global Relay Gastown Grand Prix, it is also a hotbed for fashion apparel and boasts offerings from established and upcoming local and international designers.
Relax in the stunning VanDusen Botanical Gardens
What: Located in the Shaughnessy neighbourhood of Vancouver, the VanDusen Botanical Gardens opened to the public in 1975 and are rated one of the best in the world. Covering 55 acres, this horticultural delight showcases roughly 11,000 different plant species from six continents and charms with dramatic flowerbeds, landscaped gardens, five lakes, a garden shop, a library and Truffles Café. The gardens also host a spectacular Christmas-themed Festival of Lights every December, transforming this botanical oasis into a winter wonderland.
What: Highlights include the Elizabethan Maze which is bordered by 1000 pyramid shaped cedars, the fairytale-like Rhododendron Walk and the striking Sino-Himalayan Garden. There are 40 intriguing themed gardens accessed by a network of winding paths and a magnificent collection of 22 sculptures, ranging from totem poles to modern day arty exhibits. From April to October visitors can enjoy a guided tour of the gardens which takes place daily at 2pm. Admission prices are dependent on seasons; from £5 for adults and from £2.70 for children.
Go skinny-dippy at Wreck Beach
What: Vancouver is blessed with ten beaches, all of which are open to the public, free of charge and easily accessible from the Downtown core. One of the most visually stunning (and quirkiest) is Wreck Beach, located at the southwestern tip of Vancouver, across from the University of British Columbia campus. This six-kilometre stretch is famed for its clothing-optional policy and eccentric beach scene.
How: This well-established nudist beach allures around 100,000 sun worshippers every year including naturists, families, students and exhibitionists, many of whom are naked or near-naked. For those who don't fancy parading the sands in their birthday suit, there is no pressure to bare all - swimwear is perfectly acceptable. Defined by its hippy-vibe, vendors line the golden sands selling crafts, clothes, crystals and henna tattoos. This unique beach also plays host to annual nude beach events including the annual Bare Buns Run and the Wreck Beach Skinny Dipping Fundraiser.
Get a bird's-eye view of the city from Vancouver Lookout
What: The flying saucer-shaped Vancouver Lookout sits atop the 28-story Harbour Centre in the Vancouver's central business district. The experience starts at street level; take the exterior glass-fronted elevator and be whisked around 553 feet skyward to the enclosed 360 degree viewing platform. The cityscape below is awe-inspiring and picture-perfect views include the North Shore Mountains, Olympic Peninsula Mountains and Pacific Ocean.
How: The Lookout is essential doing for getting your bearings and discovering key information about Vancouver. Walk the deck to discover the hidden treasures that Vancouver has to offer through the interpretive displays or enjoy a complimentary tour. Admission tickets are valid for same day return, so you can enjoy the cityscape by day and night. Open 365 days, viewing hours are 9am to 9pm from mid-October to April and 8.30am to 10.30pm from May to mid-October. Tickets cost £10 for adults and £5 for children aged six-12). The Top of Vancouver Revolving Restaurant is operated independently.
Do the Grouse Grind
What: Known as 'Mother Nature's Stairmaster', Grouse Mountain Grind path is a steep near vertical 1.8 mile trail that attracts a whopping 100,000 hikers in late spring and early summer. The Grind's summit is 1,127 metres (3,700 feet) above sea level and it takes around two hours for novice hikers to reach the plateau and earn their bragging rights. For those who can't face the descent, take the Skyride back down the mountain. This airborne gondola departs every 15 minutes and tickets cost £6 per person.
How: There are 2,830 wooden stairs to climb so be sure to carry plenty of water and wear appropriate footwear. The Grind opens at 6.15am and it is best to get there as early as possible to avoid the crowds. Once at the summit, breathtaking panoramic views of the city unfold; buy refreshments at the snack shop or indulge gourmet cuisine at The Observatory, a fine dining mountaintop restaurant overlooking the glimmering lights of Vancouver. Another highlight is Theatre in the Sky, a unique mountaintop high definition cinema that presents fascinating footage of native and adopted wildlife.
Take a horse-drawn carriage ride or tandem through Stanley Park
What: North America's third largest public park is a 1,000-acre evergreen wonderland located on Downtown's doorstep. Opened in honour of Canada's Governor General Lord Stanley in 1888, this all-encompassing space truly captures the spirit of Vancouver and impresses with forests, beaches, hiking trials, First Nation's totem poles and exquisite flower gardens. One of the park's top attractions is the Vancouver Aquarium, home to 70,000 creatures including beluga whales, dolphins and sharks.
How: Exploring the perimeter of the park by foot (6.2 miles) takes around three hours; more romantic is pedaling the paved pathways on a bicycle made for two. Rent a tandem from Spokes Bicycle Rentals, located at the park entrance (half-day hire from £30). For the ultimate woodland thrill, book a horse-drawn carriage tour with a professional guide. Stanley Park Horse-Drawn Tours depart every 20 to 30 minutes from the kiosk at the park's Georgia Street entrance. A one-hour tour costs £19 for adults and £10 for children.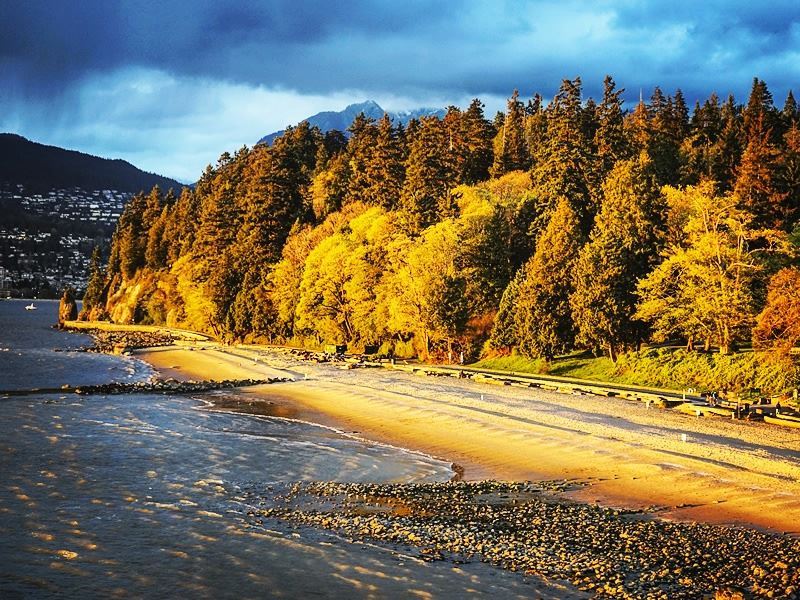 Find your perfect holiday
Talk to our friendly team
01342 331796
Call us 9am-7pm Mon-Fri / 9am-5pm Sat-Sun