Exploring Stanley Park, Vancouver
Spanning 1,000-acres, it's the third largest public park in North America and widely recognised as one of the greatest urban recreation areas in the world. Located on a peninsula at the north-western edge of the city, Stanley Park is a magnificent haven for countless outdoor and indoor activities, with something to suit all ages and interests.
Explore miles of trails that wind through the park's lush tree-filled interior or cycle along the famous Seawall, stopping to admire breath-taking ocean and mountain vistas. Gather family or friends to spend the day relaxing, picnicking and playing sports at one of the many beautiful beaches and lakes. Discover the park's numerous sights, ranging from blooming flower gardens and fascinating historical landmarks, to colourful First Nations art and epic "monument trees". Stanley Park also boasts more than its fair share of kid-friendly spots, including Canada's largest aquarium, a swimming pool, waterpark, miniature railway, and plenty more guaranteed to keep the whole family happy.
With so much on offer, it's easy to feel overwhelmed by the sheer number of things to see and do. To help make the most of your time, we've narrowed down the choices and compiled a list of the top highlights not to be missed on any visit to Vancouver's Stanley Park.
What to see
Immerse yourself in nature
Stanley Park is surrounded by water and contains a portion of the world's longest uninterrupted waterfront path, which stretches a total 28 km. The 9 km stretch that circles the park's perimeter, known as the Seawall, is a huge draw for nature lovers, active types and all those seeking respite from city life. A popular activity is to hire a bike, don some rollerblades or simply jog or walk around the wall, admiring the stunning mountain and forest scenery as you go and stopping to snap sweeping shots of downtown Vancouver.
"Vancouver is incredibly well geared up for cyclists, with dedicated lanes on all the roads and a 9km seawall that tours both the harbour and Stanley Park. It is almost all flat, so is suitable for all and the main path will take you past the famous story poles"
Emma, North America Specialist
If you fancy delving deeper into Stanley Park's natural side, or simply want to seek refuge from the crowds, there are numerous worthwhile hiking trails to choose from. With over 27 km of paths and boardwalks crisscrossing the interior, including Siwash Rock Trail, Rawlings Trail and Beaver Lake Trail, there are myriad opportunities to discover the area's scenic beauty, along with its rich diversity of plant and animal life.
Explore lush evergreen forests thick with many renowned tree species, including cedar, hemlock and big-leaf maple, along with towering Douglas firs. Keep an eye out for the so-called "monument trees", which refer to the giant centuries-old trees that survived the area's logging during the nineteenth century. One of the oldest and most impressive is Hollow Tree, a 750-year-old western red cedar stump that's one of the most photographed landmarks in the park. Wildlife lovers will also find plenty of interest, as bald eagles, beavers, coyotes, harbour seals, great blue herons and hundreds more species all find their home in the park's diverse habitats.
Sights and landmarks
Stanley Park is a designated Canadian National Historic site offering visitors the chance to witness dozens of inspiring landmarks, monuments and fascinating artefacts, not to mention stunning views that combine ocean, mountain, forest and cityscapes all in one.
As with the rest Vancouver, Stanley Park played an important role in First Nations history and is widely celebrated for its spectacular examples of First Nations art. Be sure to pay a visit to the famous story pole display at Brockton Point, one of the most-visited tourist sites in British Columbia. You'll find ten beautiful, intricately-carved story poles emanating from remote places around the region, accompanied by informative displays detailing their historical and cultural significance. Art lovers will also enjoy visiting the various other sculptures scattered throughout the area, including the Coast Salish Gateway and the "Girl in a Wetsuit", a quirky life-sized mermaid statue that can be seen perching just off shore from the Seawall.
Stanley Park also has its fair share of architectural and natural landmarks. The views from Brockton Point Lighthouse are some of the best in the entire park, offering a great perspective on Burrard Inlet and the Lions Gate Bridge. Notable natural landmarks include the 32-million-year-old Siwash Rock, along with Prospect Point which offers sweeping panoramas over the North Shore Mountains. The Lost Lagoon is a biodiverse sanctuary for numerous bird species, whilst the nearby Nature House offers a fascinating overview of the park's social history and unique ecology.
What to do
Beaches, gardens and picnics
There's perhaps no better way to spend the afternoon than to assemble a picnic basket and lay out a blanket in one of the park's many memorable spots. Stake out a claim at the beach or beside a lake and enjoy spending time with family and friends amid beautiful surrounds. Stanley Park can cater for large picnic gatherings of up to 150 people. Three designated sites offer shelters, barbecue and kitchen facilities, along with unbeatable settings close to the main attractions.
Second Beach, on the south-eastern coast, is one of the park's most popular destinations. The beach is staffed by a lifeguard and open for bathing between May and September. There's also a grassy play area, picnic and barbecue sites, a nearby pitch & putt course and you can also expect free outdoor movie screenings and plenty of ice-cream in summer!
The more secluded Third Beach is another sandy expanse that's a superb place to catch the sunset. Do as the locals do and sit back against a few logs, unpack a picnic and watch the colours unfold against the spectacular backdrop of West Vancouver and English Bay.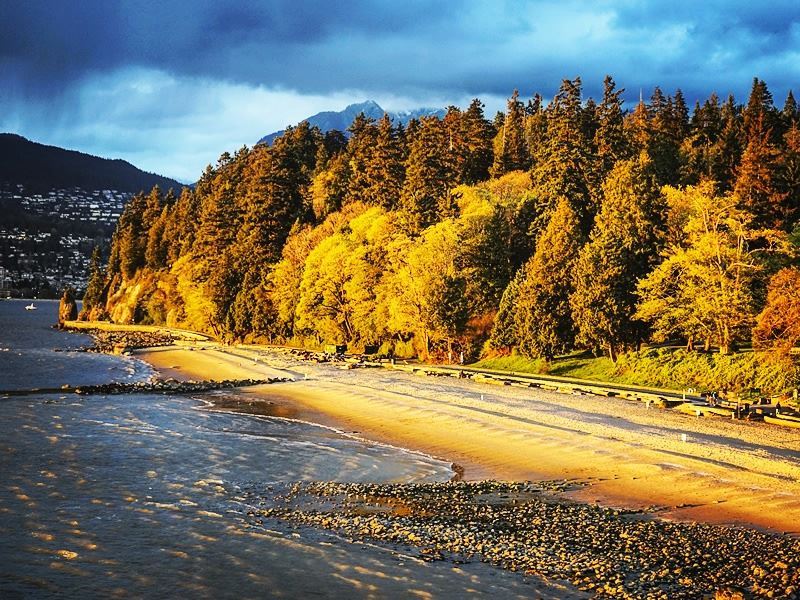 In fact, the park's entire coastline is dotted with beaches and rocky coves. Whilst swimming is only permitted at a couple of spots, you can explore rock pools at low tide or take to the sea with a rented kayak or stand-up paddle board.
Alternatively, take a leisurely stroll through one of the numerous English-style gardens that bloom with flowers each year between spring and autumn. The Ted and Mary Greig Garden is a sight to behold in spring when over 4,000 rhododendrons and azaleas are at their peak. The Stanley Park Rose Garden is awash with rose bushes, floral beds and climbing clematis, whilst Shakespeare Garden is a magnificent arboretum that pays homage to trees mentioned in the Bard's plays.
Sporting activities
The multitude of athletic options in Stanley Park means sports lovers will hardly know where to begin. If you want to work up a sweat, one of the best facilities on offer are the 17 free first-come, first serve tennis courts located near Beach Avenue. Acres of green space make the park a perfect destination for football, Frisbee, cricket, running, and pretty much any other activity you can think of. Casual golfers should head for the Stanley Park Pitch & Putt, a beautifully-sculpted 18-hole golf course bordering English Bay that features lush greens, blooming rhododendrons, mature trees and wonderful views.
The park is also home to numerous sports clubs including Brockton Point Cricket Club, Royal Vancouver Yacht Club and Vancouver Rowing Club, along with teams in rugby, field hockey and lawn bowling. Whilst these are closed off to public use, special events and competitions offer thrilling opportunities for spectating.


Fun for all the family
Stanley Park is the ideal destination for families, offering countless ways to keep the kids busy.
If you're after a memorable way to get around the park, take the miniature train along 2 km of tracks and tunnel through beautiful forest scenery. Kids will love the seasonal-themed train rides, including riveting ghost tours in October and a magical journey through millions of twinkle lights during the holiday season. Alternatively, embark on a narrated horse-drawn carriage tour for a relaxing and informative way to experience the park's top sites.
The park is home to the Vancouver Aquarium, Canada's largest and one of the city's star attractions. Home to more than 70,000 creatures and a world leader in marine science, the aquarium offers unmatched opportunities for learning more about the region's ocean. The educational "encounters" programme is a definite highlight, allowing visitors to take part in training sessions and get up close and personal with the aquatic life.
If the weather's hot, kids will love splashing around in Stanley Park's many water-focused attractions. Second Beach boasts a popular seasonal infinity-style outdoor pool. The pool features a waterslide, lap lanes for swimmers and breath-taking views over English Bay. It's also heated, so provides a great way to warm up after a chilly dip in the ocean. Stanley Park also has a large outdoor water park, which is another great way to cool off in summer months. Beyond this, there's a Kids' Free Summer Fun Centre offering arts and crafts, games and sporting activities for children up to 12 years, along with numerous playgrounds where kids can blow off steam.
Where to eat
With all the excitement to be had, you'll likely need somewhere to stop and refuel your energy throughout the day. Luckily, Stanley Park has a wealth of quality eateries that are worthwhile destinations in themselves.
For something quick and casual, head for Stanley Park's Bar & Grill or Prospect Point Café. The former is located at the Stanley Park Pavilion, one of the park's most historic and enchanting buildings. The menu is packed full of dishes such as burgers, mouth-watering entrees and refreshing salads that emphasise locally-sourced ingredients.
There's also an immense patio area that's a popular place to unwind and enjoy quality beverages from the BC focused beer and wine list. Meanwhile, Prospect Point café, located at the park's highest point, is a memorable place to grab a midday snack, whether it be a coffee, ice-cream, or a delicious bowl of soup, salad or pasta.
If you're in search of something extra special, the fine-dining Teahouse is well worth a visit. It boasts an exceptional menu full of signature Pacific Northwest dishes brimming with fresh ingredients and with inspired French twists. The stylish surrounds and stunning views compete the experience, making it the perfect spot for a romantic dinner or special occasion.
Find your perfect holiday
Talk to our friendly team
01342 331796
Call us 9am-7pm Mon-Fri / 9am-5pm Sat-Sun