Exploring Gastown, Vancouver
Considered Vancouver's birthplace and historic heart, Gastown is a distinctive, charming and proudly independent district, filled with some of Vancouver's very best food, shopping, culture and nightlife. Alongside a rich history and gorgeous heritage backdrop, the neighbourhood is a rapidly rejuvenating hub for a host of new and exciting developments. In recent decades, Gastown has evolved into a haven for stylish locals and fun-loving tourists, brimming with innovative restaurants, hip cafes, one-of-a-kind boutiques, as well as some of the city's most interesting drinking venues and liveliest nightspots.
Located in the northeast corner of Vancouver's downtown area, Gastown is easily accessible and makes an all-round perfect destination for those eager to experience the city's historic and cosmopolitan highlights. Here are our top picks for exploring this unique, vibrant and culture-filled Vancouver neighbourhood.
Sightseeing
As Vancouver's oldest district, Gastown is by no means short on historical and architectural charms and attractions. The district obtained its name from "Gassy" Jack Deighton, a colourful character and British seaman who founded the area when he established a single tavern in 1867. Gastown bustled with wholesalers, industry and entertainment venues in the following decades, before entering a period of deterioration in the wake of the Great Depression. It wasn't until the 1960's that revitalisation efforts took hold, culminating in the area being designated a National Historic Site in 2009.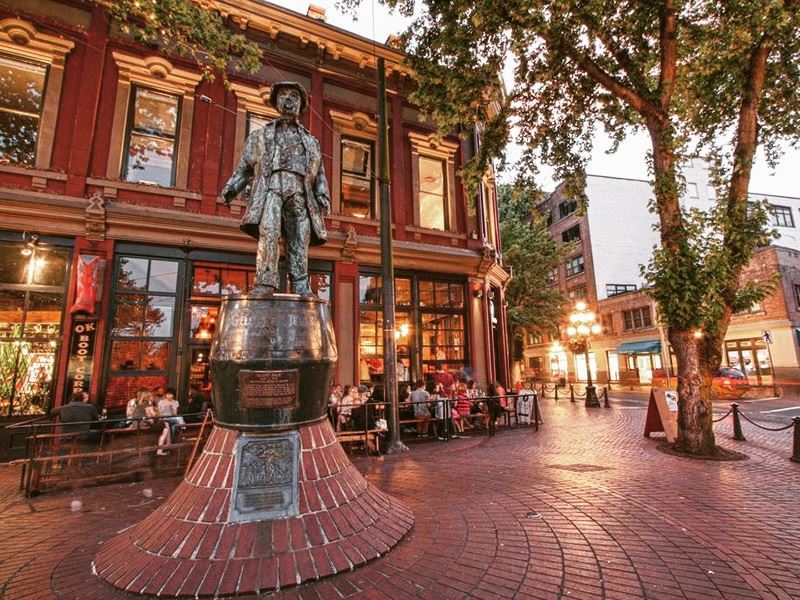 With quaint cobblestone streets, wonderfully preserved architecture and a compact size, Gastown is made for exploring on foot. A fun way to get your bearings is to take a walking tour between some of the area's most notable sights. Embark on a self-guided journey through the district's bustling streets with evocative names like Blood Alley and Gaoler's Mews. Alternatively, join one of the fantastic free historic walking tours that run throughout the summer, departing daily at 2 p.m. from the Gassy Jack statue.
Enjoy a stroll along Water Street, lined with shapely trees, vintage lampposts and attractive brick buildings. This area is home to the world's first steam-powered clock, a picture-perfect attraction that's one of Vancouver's most photographed landmarks. The nearby Maple tree square, with its charming old-world feel, is renowned as the spot where Vancouver's inaugural city-council meeting was held, as well as playing host to a famed statue of the district's founder depicted perched atop a barrel of whiskey.
Carrall Street features a striking collection of nineteenth-century houses, including Byrnes Block, home to the city's first brick buildings. Be sure to check out the old Canadian Pacific Railway Station and the Hotel Europe on Powell Street for yet more spectacular examples of Late Victorian architecture. To round it all off, head up to the nearby Vancouver Lookout for breath-taking panoramic views over Gastown and the wider city.
Art, culture and shopping
As a quirky, independent and thoroughly artsy neighbourhood, Gastown offers endless opportunities for browsing galleries, antique stores, funky gift shops and hip homeware boutiques.
Gallery-hoppers will be spoilt for choice, especially when it comes to First Nations Art. The highly acclaimed Inuit Gallery houses an impressive museum-quality collection of Inuit and Northwest Coast art, showcasing the work of both established and emerging talent, often focused around natural imagery. The Coastal Peoples Fine Arts Gallery boasts an equally inspiring collection of art and craft pieces, and it's well-worth spending a couple of hours immersing yourself in the assortment of ceremonial masks and totem poles, intricately-weaved baskets, elegant sculptures and visually-striking prints. Many of Gastown's galleries are also great places to pick up quality art works, unique carvings and beautiful jewellery pieces.
Gastown is undoubtedly among Vancouver's premier shopping destinations, a haven both for world-renowned brands and local design. It boasts a thriving fashion scene, reflected in the countless independent clothing boutiques filled with stylish garments, shoes and accessories. Combine this with an abundance of modern souvenir shops, art stores and interior furnishing boutiques, and you can find just about anything under the sun, including many one-of-a kind pieces.
To sample some of the neighbourhood's best shopping, head to Old Faithful Shop to browse a tempting array of timeless home décor items. LYNNsteven boutique is a firm favourite for women's apparel, whilst Blim is a wonderful arts and crafts resource centre, selling unique wares and even offering space and supplies to craft designs of your own on site.
The foodie scene
One of the strongest driving forces behind Gastown's fast rising popularity is the quality and diversity of its restaurants. Whether you fancy indulging in some of Vancouver's best Asian fusion cuisine, hearty European fair like homemade Italian tortellini and gourmet fish and chips, or the profusion of sweet treats ranging from organic ice-cream to freshly made chocolates, there's enough here to satisfy even the most insatiable of appetites. For a taste of what's out there, check out these not-to-be-missed Gastown eateries.
L'Abattoir offers an unbeatable take on French cuisine, with many American favourites mixed in, including dishes such as terrine of smoked pork hock, foie gras, raw Pacific oysters and confit duck served with unbelievably tasty fondant potatoes. The creative fare is paired with an eclectic cocktail and wine list, featuring delicious concoctions like Verre de Soleil and Seabiscuit's Julep. Its location in a beautifully refurbished historic building, complete with chic décor and a cosy ambience, makes it the perfect spot for a memorable dinner.
If you want a day-time option, we recommend diving into Gastown's thriving brunch scene at Wildebeest. This joint focuses on comforting and innovative meat dishes, priding itself on sourcing organic, seasonal and often custom-grown produce, ensuring impeccable freshness and flavour. The brunch option includes Angus steak with peppercorn sauce, smoked cheddar bierwurst, perfectly crisp bacon and potatoes, along with scrambled eggs and toast galore. Pair with a thirst-quenching cocktail or two and you have a real feast on your hands. Coffee lovers and brunchers should also check out Nelson the Seagull, one of the hood's hippest cafes, offering a delicious selection of freshly-baked breads and pastries, gourmet meals, picnic boards and a welcoming community feel.
For something a little different head over to one of Gastown's most unique venues, Calabash, for an authentic taste of the Caribbean. You'll feel yourself literally transported to another world as you admire the art displays, soak in the musical vibes and indulge in the mouth-watering menu. Choose from oxtail stew, jerk chicken skewers, coconut dumplings and roti with jerk scrambled eggs. Then wash it all down with a tipple at the bar, which boasts Vancouver's largest selection of rums.
Drinking venues and nightlife
Since the founding of "Gassy" Jack's nineteenth-century saloon, this area of the city has become renowned for its superb watering holes and vibrant entertainment spots. In fact, it's the epicentre of Vancouver's cocktail and pub scene, home to countless hip venues that keep the area buzzing into the small hours. After you've had your fill of Gastown's gastronomic delights, be sure to make time for after-dinner drinks and entertainment at one of these exciting venues.
Gastown's pubs truly have to be seen to be believed, offering the perfect hangouts to sample quality brews, watch the game and chow down on tasty pub grub, often in beautiful historic surrounds. Steamworks is one of Vancouver's few brewpubs. Housed in a subterranean converted warehouse and harnessing a unique steam-powered production method, it offers an unconventional selection of delicious brews and inspiring menu of beer cocktails. Six Acres is perhaps Gastown's cosiest tavern, found in Vancouver's oldest brick building and offering a top line beer selection along with an attractive patio that's perfect for people watching in the summer months. Meanwhile, the Irish Heather boasts an impressive long table, award-winning whiskey list and truly authentic Irish fare and atmosphere.
For those looking to extend the evening's fun, Gastown is awash with numerous popular bars including The Diamond, Chill Winston and Salt Tasting Room, all offering sumptuous cocktails and wines in sophisticated surrounds. Guilt & Co is a top choice for live music, hosting an eclectic line-up in an intimate basement venue. Choose from a huge array of cocktails, supplement with tasty dessert nibbles and enjoy the bar's friendly atmosphere. Club-wise, a favourite hotspot is Alexander Gastown, a beautiful three level heritage space converted into a lively party venue, complete with bar, dance floor, plenty of seating and an ever evolving line-up of DJs and live music.
Find your perfect holiday
Talk to our friendly team
01342 331796
Call us 9am-7pm Mon-Fri / 9am-5pm Sat-Sun