Exploring Alberta in the summer
From snow-capped peaks and glistening glacier-fed lakes, to wide-open prairies and desert badlands, Alberta is home to some of Canada's most breath-taking scenery. And there's no better time to explore these incredible landscapes than during the summer months, when opportunities for scenic sightseeing, hiking, golfing, paddling and plenty more, abound. Banff and Jasper National Parks are truly world-class destinations boasting awe-inspiring mountain vistas, iconic wildlife and some of North America's best hiking. Alberta's almost endless collection of lakes and rivers promise fantastic canoeing, rafting and fishing, whilst the surreal beauty of the badlands offer up yet more fantastic hiking and sightseeing, along with a thrilling taste of the past, from the classic West all the way back to the prehistoric time of the dinosaurs. Throw in two modern, vibrant and quintessentially Canadian cities, brimming with culture, history and entertainment, and you have everything you need for a summer to remember.
Sightseeing
Alberta is home to two of Canada's largest and most exhilarating cities, each one offering a fantastic range of contemporary and historical attractions, with everything from stunning skylines to fascinating heritage parks, along with world-class shopping, dining and nightlife.
First up is Calgary, a buzzing metropolis that contains all the trappings of a chic modern city, whilst fully embracing its rich western heritage. The city played an instrumental role in the evolution of the Canadian West and a visit to Alberta's Heritage Park will bring this monumental period to life through a host of wonderful exhibits, hands-on activities and demonstrations from costumed interpreters. For a jaw-dropping perspective over the modern-day city, head up Calgary tower, the world's highest panoramic observation deck. Adrenaline junkies won't want to miss Canada Olympic Park, where thrilling mountain bike trails, along with the world's longest zip line open during the summer. Kids will love spending time at Calgary Zoo, home to a vast ensemble of animals from across the world, along with some of Canada's most famous species. Finally, it's well worth timing your visit to coincide with the thrilling Calgary stampede in early July. Dubbed "the world's greatest outdoor show", this annual extravaganza promises a non-stop whirlwind of rodeo attractions, cultural exhibits, country music and mouth-watering food.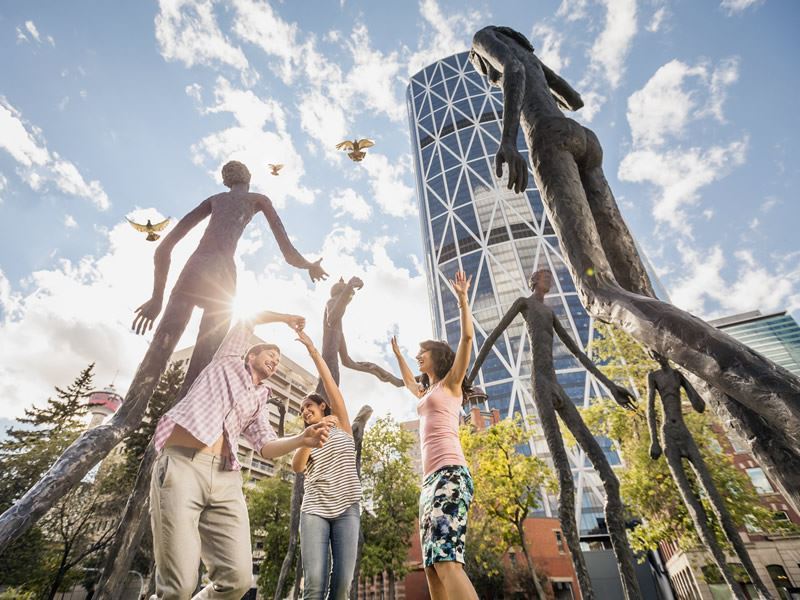 As Alberta's capital, Edmonton is similarly packed with enough urban sights and attractions to occupy several days. Known as Canada's Festival City, it's especially renowned for its impressive calendar of seasonal events, featuring more than 60 festivals throughout the year. During the summer, the Folk Music Festival and International Fringe Theatre Festival see hundreds and thousands descend into the city's expansive parks and along it's meandering river banks to enjoy the live performances. The city is also home to West Edmonton Mall, the largest shopping and entertainment complex on the continent. Featuring hundreds of cutting-edge shops, a water park, ice rink, aquarium, mini golf, restaurants and even rollercoasters, there's enough here alone to fill an entire day. Edmonton is also home to some of Canada's best museums and historic sights, notably Fort Edmonton Park, as well as an enviable range of restaurants and nightlife options.
Scenic flights
To witness some of Alberta's best natural sights, nothing beats climbing to sky-scraping altitudes for a mesmerising bird's eye perspective over the province's most captivating landscapes. Whether you fancy soaring over jagged mountain peaks or cruising high above endless rolling prairie, there are numerous outfitters who can make your airborne dreams a reality.
Recommended options include helicopter tours over the Canadian Rockies, including the mesmerising Columbia Icefield, or taking a flight over the spectacular Kananaskis area, brimming with glacier-clad peaks, deep blue lakes and thick evergreen forests. Various add-ons and extensions, from champagne receptions, picnic lunches and glacier walks, take this once-in-a-lifetime experience to the next level.
Hiking
With nearly 35,000 square miles of protected land, including 75 provincial parks and 5 world-renowned national parks, Alberta has plenty of room to roam. The sheer scale, beauty and diversity of natural landscapes, along with a comprehensive network of well-maintained trails make it a true hiker's paradise. Whether you're scaling majestic Rocky Mountain peaks, or venturing through the mysterious Canadian Badlands, there are endless trails to suit all tastes and abilities.
Banff is one of the most famed and inspiring national parks in Canada, if not the world, boasting outstanding scenery and vast tracts of backcountry wilderness intersected by over 1,000 miles of trails. The spectacular setting of Lake Louise forms the perfect base for summertime hiking. Take a leisurely stroll around the shoreline, admiring the beautiful turquoise water and the stately chateau, or take one of the more challenging trails leading up the mountain side and beyond towards the magnificent Victoria Glacier. Multi-day trips are also possible, whether you fancy an epic backcountry camping expedition, or the more comfortable option of "tea house" hiking. The Lake Louise area is also renowned for some of the best wildlife watching in the Rockies, including grizzly bear viewing, along with high alpine meadows which come ablaze with colour during the spectacular mid-summer wildflower season.
Those looking for a more relaxed option can easily explore the park from the comfort of a car, stopping off at numerous roadside lookouts to admire impressive views over the peaks, forests, lakes and glaciers. Whilst you're here, be sure to ride the Banff Gondola up Sulphur Mountain for panoramic vistas over the Bow valley, and then pay a visit to the Banff Upper Hot Springs for a relaxing soak in the soothing mineral pools.
Straddling Banff and Jasper National Parks, the Columbia Icefield is another of Alberta's prime attractions. Cruise along the jaw-dropping Icefields Parkway and admire the colossal ice fields from the Glacier Discovery Centre, before taking to the area's fantastic hiking trails. Walk out onto the Athabasca Glacier, complete a short scenic loop accessible from the roadside, or embark on a high alpine trek leading to scenic lookouts over lofty mountain peaks and glittering teal lakes.
Jasper National Park is another incredible hiking destination not to be missed. It's Canada's largest national park, yet also less visited than many of the others, giving it a more rugged and remote feel. Jasper is renowned for its miles of pristine backcountry, abundant wildlife and comprehensive hiking and biking network. One of the best spots is Maligne Lake, home to several popular hiking routes that lead up from the shoreline towards the surrounding jagged peaks and glaciers. The lake is also home to the stunningly beautiful Spirit Island, one of the most photographed scenes in the country.
For something a little different, Alberta's badlands offer a change of scene from the mountains, lakes and forests further west. The landscape is primarily known for its rich fossil beds, including the world's largest concentration of dinosaur remains. The area attracts palaeontologists and dino fans from around the world, but the otherworldly landscape and scenic beauty also makes it popular with hikers. The town of Drumheller makes a great base for exploring the area, providing easy access to plenty of dino-related attractions, along with some fantastic walking routes. The World Heritage Dinosaur Provincial Park is another hiking hotspot. Myriad rocky trails climb up high sandstone cliffs, winding past towering hoodoos and boasting panoramic views over the starkly beautiful landscape. At ground level, there are endless grasslands, ancient river valleys and a unique cottonwood habitat to explore, as well as fantastic birdwatching.
Golfing
Whether you tee off amidst towering mountain peaks or endless rolling prairie, Alberta's incredible natural beauty provides the perfect backdrop for a round or two of golf. The province is home to over 275 courses, many of them attracting golfers from across the globe and all providing the perfect mix of challenge and reward. With long daylight hours (up north, you can golf until midnight), plentiful wildlife and evenings spent on sunny clubhouse patios, summertime is the perfect time to hit the green. Two of Alberta's most renowned golfing destinations are the Fairmont Jasper Park Lodge and Fairmont Banff Springs courses. Designed by legendary course architect Stanley Thompson, these classic mountain courses boast impeccable conditions, some of the country's best signature holes, along with picture perfect settings guaranteed to leave you breathless. Other highly acclaimed options include Alberta Springs Golf Course, near Red Deer, Pine Hills Golf Club for ultra-dramatic views, as well as Athabasca Golf and Country Club, considered one of the most challenging yet scenic courses in the province. If you're serious about your golf, a popular option is to follow the Alberta Rocky Mountain Circle Tour from Calgary to Edmonton, via Banff and Jasper, taking in the province's very best golf courses along the way.
Canoeing, kayaking and rafting
Alberta is tailor-made for some serious paddling. But with so many scenic lakes and rivers to choose from, it can be hard to know where to start. Here are just a few top picks. Take a canoe out onto the iconic Lake Louise, Lake Minnewanka in Banff or the tranquil waters of Moraine Lake in the Valley of the Ten Peaks. Watch in awe as birds of prey soar overhead and keep an eye out for deer on the shoreline. Savour a peaceful picnic lunch out in the middle of the lake, or enjoy a gentle evening paddle as the sun sinks slowly behind the peaks leaving a brilliant afterglow. For an extended trip, multi-day expeditions along winding rivers promise complete immersion in the raw Canadian wilderness. Tours are available to take you down the mighty Athabasca River or the historic Bow River, where you'll negotiate easy rapids, spot incredible wildlife and be captivated by thrilling stories of early pioneers and fur traders.
Adventure-seekers craving whitewater excitement won't leave disappointed. Jasper National Park is home to some of the country's best rafting, with something to suit all skill levels, including easy-going family-friendly trips accessible even to toddlers. The Athabasca, Sunwapta and Frasier Rivers are all worth checking out and there are plenty of operators who will provide everything you need to ensure maximum safety and fun. Spend a couple of hours out on the river, whether to test your skills on grade 4 rapids or to enjoy a more serene paddle. Alternatively, embark on a multi-day journey downstream and enjoy camping out under the stars on the riverbank.
Fishing
Anglers looking for the perfect spot to drop a line will be spoilt for choice in Alberta. The province is home to thousands of unspoiled waterways, ranging from pristine mountain lakes to raging rivers and tranquil streams. Whether you're looking for a secluded spot to get away for a while, or want to launch off on an extended boating, fishing and camping expedition, it's all possible right here.
For easy access fishing, several waterways wind through the province's large cities. The North Saskatchewan River, which can be conveniently accessed in and around Edmonton, is particularly renowned for its big catches, whilst the Bow River flows right through Calgary and promises plenty of trout. For the ultimate backcountry experience, take a float plane out to the farther reaches of the province. Set up home in a rustic shoreline cabin for a few days and enjoy uninterrupted peace and quiet as you fish in pristine waters for trout, pike, grayling, goldeye, whitefish and more. You're also likely to encounter plenty more wildlife, including moose, lynx, wolves and birdlife.
Meanwhile, Alberta's rolling rivers provide a more energetic fishing experience. The Athabasca is one of the province's longest free flowing rivers and a prime fishing destinations, whilst Blindman River near Red Deer promises plenty of reward for any skill level. If you're new to fishing in Alberta, it's well worth booking a guided excursion to make the most of what's on offer. This will grant you access to some of the best spots without the hassle of organising your own boat transport or accommodation. You'll also receive invaluable tips on locating the best "holes" in the rivers, as well as gear, tackle and meal provision depending on the outfitter.
Find your perfect holiday
Talk to our friendly team
01342 331796
Call us 9am-7pm Mon-Fri / 9am-5pm Sat-Sun