Top 10 photogenic wonders in Ontario
There's plenty worth getting your camera out for in Ontario - Canada's most diverse province is filled with big city pleasures, charming rural towns and stunning scenic wonders. We check out some of our favourite views and sights in Ontario – ranging all the way from iconic skylines to breath taking natural wonders.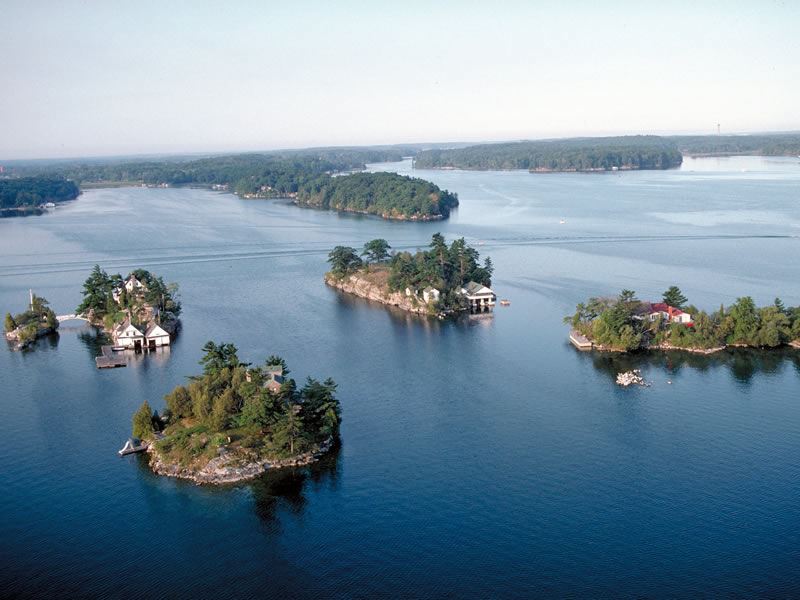 10. Toronto skyline
The Toronto skyline is a magnificent sight to behold. It's a collection of architectural marvels that tower over Lake Ontario, providing stunning views from various vantage points. The most recognisable part of the Toronto skyline is the unmistakable CN Tower and taking a photo of this icon is must for all visitors to the City. One of the best ways to admire the skyline is through a Harbour Cruise - from the water, you can see this city's impressive skyline.

The Historic Distillery District is a photographer's dream! From historic brick buildings, cobblestone streets, art installations, colourful murals and much more – there's no shortage of photo opportunities for those looking for a different view of Toronto.

One of the most popular photo spots in Toronto is the Toronto sign at Nathan Phillips Square, just in front of City Hall. The sign features bold, illuminated letters and is a favourite spot for tourists and locals alike to capture the perfect "Toronto" picture.

If you're looking for a more laid-back experience, the Kensington Market offers a bustling multicultural neighbourhood that is known for its colourful street art and vintage clothing shops. It's a great spot to experience Toronto's vibrant cultural scene and a perfect place to capture some unforgettable photos.

Get the shot: The ferry ride to Toronto Island will provide some cracking views of the downtown core. You'll also get that epic skyline shot from the Flatiron Building, Polson Pier, Humber Bay, The Gardiner Expressway , Riverdale Park, and Leslie Street Spit.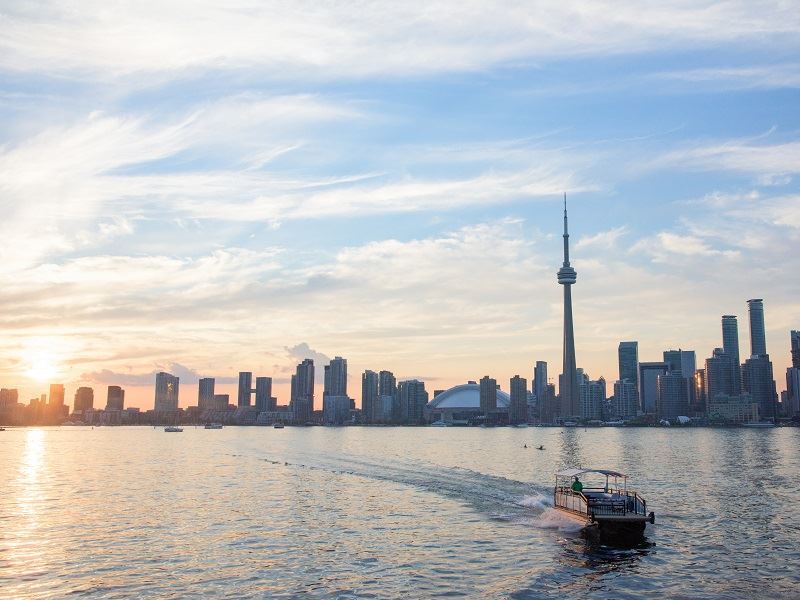 9. Parliament Hill Ottawa
Toronto might be the largest city in Canada, but Ottawa is the capital and at its centre is the stunning Parliament Hill – a promontory nearing 200 feet where the grand Victorian parliament buildings stand. It's a lovely place to sit and soak up the view on a sunny day or stroll and take in the sight of these majestic buildings. Every morning at 10am from early June to late August you can see the spectacle of the changing of the guards on Parliament Hill. Enjoy this colourful spectacle of pomp, pageantry and music from the Governor General's Foot Guards and the Canadian Grenadier Guards.
Get the shot: There are multiple locations to get a great shot of Parliament Hill and here is our favourite. Major's Hill is a picturesque park, just behind the Fairmont Château Laurier, that offers stunning views of the Parliament Buildings and of the surrounding Ottawa-Gatineau region throughout the year.
8. Thunder Bay
It's hard not to be awed by Thunder Bay - Northwest Ontario's largest city at the edge of the Lake Superior. Just a short plane ride from Toronto, the Gateway to Canada's Great Outdoors (known as T-Bay by locals) is perfect for adventurers keen to get stuck into ice-fishing, snowmobiling, skiing, horse riding, canoeing, kayaking, cycling and eco-tours. At Sleeping Giant Provincial Park, you'll get some powerful shots of one of Canada's best-loved oddities - the profile of a sleeping giant in 250-metre-high cliffs. The legends surrounding this formation of mesas and sills are just as intriguing; mostly the ones about Ojibway and Sioux warriors, a secret silver mine, and a great spirit that turned to stone when the location of the mine was revealed.
Get the shot: For outstanding images of the east and western shores of both Lake Superior and Thunder Bay, hike to the top of the Sleeping Giant. The visuals will blow your expectations through the stratosphere.
7. Algonquin Provincial Park
Expect one Kodak moment after another at this 7,800-square-mile outdoor playground in South-Central Ontario - a sublime landscape of maple hills, rocky ridges, valleys, mossy bogs, rocky bluffs, and over 2,000 lakes. The wildlife in Algonquin Provincial Park is breath-taking, with over 30 types of breeding birds as well as moose, wolves, bears, beavers, hares, moles, chipmunks, shrews, foxes and skunks among the most commonly sighted animals. The park attracts a huge array of visitors all for a variety of reasons, be that the thousands of kilometres worth of canoe and kayak routes or range of hiking trails, Algonquin also boasts an art gallery showcasing work by Canada's foremost wilderness and wildlife artists. The park is open year-round and day passes are available. Alternatively, rock up at one of the 1.200 campsites across eight designated areas in the park's southern end - or hole up for the night in a yurt, lodge, or wood-clad ranger cabin.
Get the shot: Head here in autumn to see the dazzling colour change of the Sugar Maples and Red Maples - or visit in spring for assured moose sightings. Throughout the year, the viewing deck at the Visitor Centre is your best bet for shots of the wild Algonquin landscape.
6. Rideau Canal Skateway
It's all smooth skating at the UNESCO-listed Rideau Canal - the iconic waterway that turns into the world's largest naturally frozen ice rink during the winter. Open for 24-hours a day between January and late-February (weather depending), the nearly five-mile-long Skateway (equivalent to 90 Olympic sized rinks) begins just steps from Canada's Parliament Buildings and stretches all the way south to Dow's Lake Pavilion. Skating here is free, and if you don't have your own gear you can rent blades from the downtown and Fifth Avenue entrances. Along the way, you'll find heated log chalets for boot changes and food kiosks for hot chocolate, apple cider, and Ottawa's famous BeaverTail pastries. The rink attracts thousands of skaters daily and is maintained by a 24-hour crew who fill in cracks, drill holes in the ice, and pump water onto the surface to ensure it stays skate-friendly at all times. There's also skate patrollers, first aiders, and a coloured flag system to indicate Skateway conditions (green flag means open, red flag means closed).
Get the shot: To show the frozen waterway through one single image, look north on Laurier Avenue Bridge (between Elgin and Nicholas Streets) where your view will include Parliament Hill, the National Arts Centre, the Fairmont Château Laurier, and crowds of skaters.
5. Niagara Falls
This truly iconic Canadian landmark is the honeymoon capital of the world and it's no surprise why! There are countless ways to capture stunning views (and photos!) of the region - all the way from the comfort of your own hotel room in one of the several providing a Falls view right down to the iconic Voyage to the Falls boat tour by Niagara City Cruises (the best way to feel the incredible power of this natural wonder). A brand new way to experience this Canadian Icon is by being immersed in interactive exhibits at the newly restored historic Niagara Parks Power Station, which includes a tunnel to an observation deck at edge of the falls!
Get the shot: Soar above this natural wonder from the seat of a helicopter. A 12-minute ride costs around $160 for adults with Niagara Helicopters and includes gorgeous views over the Falls, Lake Erie, and Lake Ontario.
4. Wildlife
For wide-eyed wildlife fans, Ontario's rolling hills, dense boreal forests, 330 parks, and endless paths and hiking trails can throw up the most extraordinary surprises. Head to Algonquin Provincial Park for moose-safari canoeing trips and bear-spotting, Georgian Bay Islands National Park for tree-climbing porcupines, Massasauga rattlesnakes and more cold-blooded animals than any other national park in Canada, and Pukaskwa National Park for Canadian lynxes and Woodland caribou. Elsewhere, there's 300 species of bird at Bruce Peninsula National Park, a native population of grey wolves at Frontenac Provincial Park, and rare fox snakes and spotted turtles at Point Pelee National Park - Point Peelee is also famous for bird spotting and is Canada's most ecologically diverse National Park!. Also trip-worthy is the Haliburton Forest & Wild Life Reserve for its wild grey wolves at the Haliburton Forest Wolf Centre and the spectacular Wolfe Island for its designated Important Bird Area.
Get the shot: There's around 400,000 white-tailed deer in Ontario, all of which have huge bodies and even huger antlers. Head to the city of Greater Sudbury to spot these huge 300lbs bucks (the average size is 140 to 250 lbs).
3. Agawa Canyon
There's no better way to see the 1.2-billion-year-old Agawa Canyon than from a newly-refurbed carriage on the Agawa Canyon Tour Train. Departing from Sault Ste. Marie, it takes just a few hours to cover the first 200-kilometres of track before you get to stop for lunch and hit the well-marked nature trails leading to four waterfalls: North and South Black Beaver Falls, Bridal Veil Falls, and Otter Creek Falls. After tackling the 300-stair climb to the Lookout (250-feet above the canyon floor), you're treated to a few more hours of scenic views; expect to see towering trestle bridges, pristine lakes and rivers, granite rock formations, and the vast forests of the Canadian Shield. Typically setting off at 8am and returning at 6pm, the Algoma Central Railway offers one-day tour trains to the canyon in late September and October for the changing colours and in December, January and February for the snow. All carriages come with mounted digital cameras with flat-screen monitors, and GPS-triggered tour narration in five different languages.
Get the shot: The carriage windows are large enough to frame the northern Ontario wilderness that inspired the Group of Seven - the 1920's group of Canadian landscape painters. Be sure to get your lens flat against the glass, switch your camera to action mode, and shoot fast.
2. Fathom Five National Marine Park
There's plenty to attract have-a-go adventurers to this triangular-shaped park that protects the continuation of the Niagara Escarpment as it drops underwater at the tip of the Bruce Peninsula. Just offshore from Tobermory, Canada's first National Marine Conservation Area not only serves to protect and display 20 uninhabited islands, 22 shipwrecks and several historic lighthouses, but it also conserves one of the most pristine freshwater ecosystems in the Great Lakes. The diving here is excellent; expect clear waters, ancient rock formations, and a superb collection of shipwrecks - most of which are schooners, barges and steamers dating back to the mid-1800's. Those who prefer to keep their feet dry should visit Flowerpot Island, the most famous part of Fathom Five's terrestrial area that's only accessible by boat. Here you'll find a loop trail that starts at Beachy Cove and continues past the two 60-foot "flowerpots" and onto the lighthouse - a steel tower built in the 1960's to replace the lighthouse that was pushed from the cliff.
Get the shot: If you're not keen on plunging into the deep, guided Flowerpot Island glass bottom boats operate tours to the shipwrecks three to six times daily. Two hours is usually sufficient for a quick walk around the island, but four hours is required if you want to see it all.
1. Thousand Islands
JJust a short two hour drive from Ottawa, this spellbinding archipelago on the Canada-US border is dotted with exactly 1,864 tree-filled islands that span both banks of the St. Lawrence River. The result is a nature-lover's paradise fuelled by endless shorelines, lush green forests, season-specific activities (summer for boating, swimming, scuba diving and fishing, autumn for the changing colours), and as much island-hopping as time allows. To grasp the sheer beauty of the place, it starts with the water; either on your own boat or on a guided tour. Must-dos include learning the tear-jerking history of Boldt Castle on Heart Island, marvelling at over 300 restored boats at the Antique Boat Museum in Clayton, hiking the miles of trails at Wellesley Island State Park's Minna Anthony Common Nature Center, and sampling award-winning reds and whites along the Thousand Islands-Seaway Wine Trail.
Get the shot: Built by hotel magnate George Boldt in the 1800's but abandoned when his wife suddenly died, the love tragedy of Boldt Castle is best understood from 1,000-feet above the (heart-shaped) ground. 1000 Islands Helicopters Tours charge $149 for a 20-minute flight.
Find your perfect holiday
Talk to our friendly team
01342 331796
Call us 9am-7pm Mon-Fri / 9am-5pm Sat-Sun