Top 10 outdoor experiences in Ontario
With over half a million freshwater lakes and rivers, and thousands of kilometres of coastline, it's fitting that the name Ontario is derived from the Indigenous word meaning 'Land of Shining Waters'. Ontario's incredible natural beauty is matched only by the myriad of ways to experience it.

Ontario offers plenty of adrenalin-pumping and heart-racing thrills to inspire fun-seekers and adventurers. Here's the 10 best outdoor activities worth getting excited about.
10. Pick up some bait, load your tackle box, and gear up for an angling adventure
Holding a breathtaking 15% of the world's freshwater with a variety of fishing on offer, it's no wonder Ontario holds massive appeal to anglers of all ages and skill! A great option is at Lodge Eighty Eight, located in the heart of the Canadian Shield, which provides eco-friendly luxurious modern comfort. The Lodge is located on the twenty-seven mile Esnagi Lake which is famous for excellent walleye, northern pike, perch and whitefish fishing.

The fishing season doesn't end when the lakes freeze over, either! Ice fishing in Ontario is exploding in popularity. Pulling a fish from a hole drilled into a vast expanse of ice can be a thrill and people of all ages and experience levels are catching on. With its shores less than an hour's drive north of Toronto, Lake Simcoe is the perfect destination to try your hand at some ice fishing.
9. Hit the fairways on some of the most challenging trophy golf courses
The lure of the links is alive and well in Ontario, home to some of the top courses and golf trails in Canada. Throughout Ontario you'll find breathtaking views, challenging layouts and memorable holes created by some of the world's best course designers!

The pine forests and sculptured granite in the Muskoka area makes for a beautiful backdrop, creating some of the world's most challenging golf. Muskoka golfing is rich in tradition, but no golf course exemplifies Muskoka golf like The Rock Golf Club. The course follows the shores of Lake Rosseau.

If you don't wish to stray far from the Greater Toronto Area, make your way to perhaps Canada's most famous golf course (and home to Golf Canada), Glen Abbey, in Oakville! Designed by legendary golfer Jack Nicklaus, Glen Abbey has hosted the RBC Canadian Open, a PGA Tour event and Canada's National Open Championship, 28 times.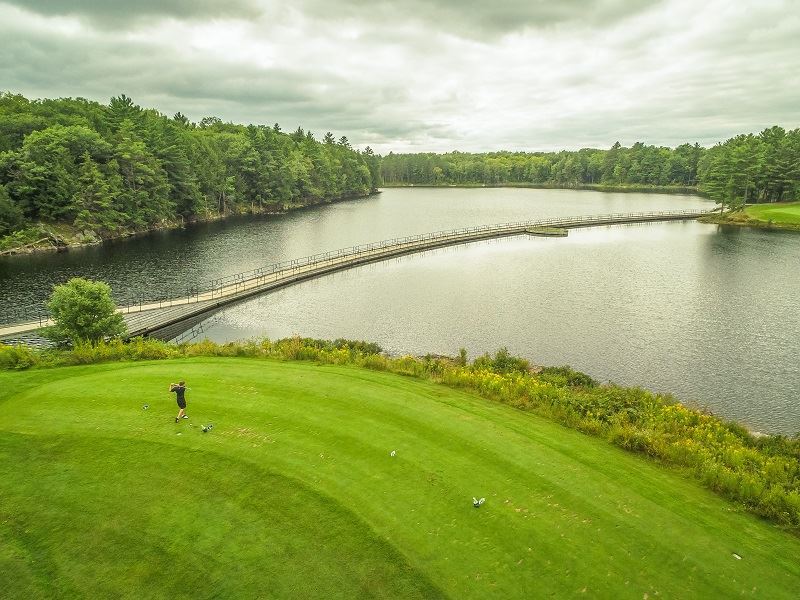 8. Head to the beach-abundant coast for the very best of sun, sea and surf
It should come as no surprise with all the lakes in Ontario that there's a wide selection of world class beaches, from those famous world-round to hidden gems, there's a beach for everyone whether you're after a relaxing beach day or an exhilarating surf!
As shown in the popular Netflix show 'Motel Makeover', the Caribbean meets Canada at Sauble Beach. With clear water, picturesque white sand and plenty of restaurants and shopping opportunities, come and discover why this is rated Canada's #1 beach! Elsewhere in Ontario is the world's largest freshwater beach at Wasaga Beach! The white sandy shoreline stretches across South Georgian Bay and includes panoramic views of the Niagara Escarpment, a UNESCO World Biosphere.

A must-visit beach is Sandbanks Provincial Park! Boasting the world's largest baymouth barrier dune formation, three expansive sandy beaches (which some say are among the best in Canada) and walking trails that allow visitors to experience the dune and wetland habitats of the park, it's no wonder the beach is massively popular to both domestic and international tourists.
7. Visit the Niagara Wine Region and experience a vineyard tour
Gently blanketing much of the Niagara countryside, the countless vineyards and wineries offer a wide array of one-of-kind, intimate experiences. One look at the lush, expansive hills and valleys of Niagara and you'll know you're in wine country. If you've never experienced a winery tour before, you're in for a treat! Each winery in Niagara has a unique atmosphere in which to take in and try the beautiful handcrafted wines.


6. Learn about Ontario's Indigenous legends and myths
For history buffs keen to learn first-hand about the Indigenous history of Ontario, taking a guided tour is a must! Try Wikwemikong Tourism for an array of Indigenous Tourism experiences in the Manitoulin Island and Killarney Region that beautifully reflects the cultural lifestyles and traditions of the regions first inhabitants.

Long before French explorer Samuel de Champlain arrived in what is now Ottawa in the early 1600s, Indigenous Peoples had been living, meeting and trading in the area for thousands of years. The Algonquins named the region "Odawa" which means "traders"—the word from which Ottawa is derived. Indigenous Peoples taught the Europeans vital skills such as how to navigate the mighty Ottawa River, survive the cold winter season and use maple sap. Explore these and other fascinating stories about Canada's Indigenous Peoples in the many attractions, tours and events in Canada's capital.

5. Experience an outdoor festival or two
With Ontario being larger than Spain and France combined, it should be unsurprising to learn there's a year round calendar of events and festivals spread throughout the province, but here's a couple of staples we think are essential for festival lovers!

Celebrate free Canadian winter fun at the epic Winterlude festival which takes place in the Ottawa region during the first three weekends of February each year! During Winterlude, you can marvel at beautiful ice sculptures, skate on the world-famous Rideau Canal Skateway (a UNESCO World Heritage Site) and play till you drop in a gigantic snow playground called Snowflake Kingdom.

If a summer festival is more your thing, look no further than Caribana in Toronto. This Caribbean Carnival is held in Toronto every July. Caribana is attended by over a million people and is North America's largest carnival celebration. The festival is dedicated to celebrating Caribbean culture and is a vibrant fusion of all the different Caribbean cultures.


4. See a different side to Ontario on a motorhome tour
Nowhere delivers the thrill of the open road like Ontario and renting an RV gives you the chance to enjoy more of the great outdoors. There are several circular routes beginning and ending in Toronto which you can travel at your own pace. Whether you want more time around the Great Lakes and Algonquin Provincial Park or wish to spend a couple of weeks enjoying watersports and barbecues. You can check out our suggested itineraries here:
Eastern Canada, Niagara Falls & the Great Lakes by Motorhome
3. Gaze in wonder at the awe-inspiring waterfalls and waterways
One of the most well-known landmarks in the world, Niagara Falls is a sight to behold - the falls are comprised of three different waterfalls, the Horseshoe Falls (the largest and most iconic of the three), American Falls and Bridal Veil Falls, and over 3,000 tons of water flow over the falls every day. There's a number of ways to take in this breathtaking natural wonder! Experience an exhilarating boat ride to the Falls with Niagara City Cruises, see the Falls from behind in the tunnel system Journey Behind The Falls, or soar above the turbulent rapids and cascading waterfalls with Niagara Helicopters.

With over 400 waterfalls in Ontario, you're never likely to be far from a completely new wonder, like the High Falls in Algonquin Provincial Park or the Kakabeka Falls in Northern Ontario. There's also the iconic St. Lawrence River for overnight cruises as well as the UNESCO-listed Rideau Canal for the world's largest naturally frozen winter ice rink (typically between January and late-February).

Away from the thunderous waterfalls and majestic rivers, you can't miss areas like Elora, with the stunning Elora Mill property that overlooks the beautiful Elora gorge.
2. Enjoy epic adventures on the dedicated paddle-friendly and rafting routes
Ontario is a paddler's paradise with over half a million incredible lakes and waterways to explore in a canoe, a kayak or on a paddleboard. Fear not as the endless waterways have allowed room for people with all abilities and skill levels to explore by paddle!

Algonquin Provincial Park plays home to perhaps Canada's most recognisable animal, the elusive and majestic Algonquin Moose, for a chance to catch a glimpse of this iconic beast be sure to make use of one of Algonquin Outfitters wide variety of full and half day trips, including fully guided and self guided tours.

If you're eager to learn and improve your whitewater rafting skills, why not wind your way through 5 fun-filled kilometres of tumbling whitewater in a wilderness setting just east of Algonquin Provincial Park, with the world-renowned paddle school at the Madawaska Kanu Centre, which offers leading whitewater instruction!

Discover the untouched wilderness of the Ottawa River on a rafting trip northeast of Algonquin Park– paddle on warm waves on nature's version of a roller coaster! Unique in the river world, every OWL trip returns to the lakeside resort on a pontoon boat where you will enjoy a BBQ meal cruise. The beachfront resort has camping, cabins, home cooked meals & lots of activities that will provide fun for everyone! Whether it's an adventurous ride or a calm family trip, OWL Rafting offers quality one-day and two-day excursions for all skill levels.
1. Soak Up Ontario's vast beauty through walking trails or hiking

Experience Ontario's natural beauty by walking and hiking more than 2,600 trails and soaking in the views of the vast wilderness.

Experience the authentic Canadian wilderness in Killarney Provincial Park, with its quiet campsites, scenic backcountry trails, and breathtaking views of George Lake. Veteran hikers can dare to reach Silver Peak, the park's highest point that is 5.5 km each way or hike the multi-day 78 km La Cloche Silhouette Trail and discover remote areas of the park.

Elsewhere in Ontario, embark along Canada's oldest and longest marked footpath - 550 miles from Niagara to Tobermory - the Bruce Trail connects you to the wonders of the Niagara Escarpment. The Trail has a myriad of access points along the way, so you can hike as little or as much of it in one go.


You can enjoy all of these activities on a Canadian Sky self-drive tour - here are our most popular itineraries:
Experience Ontario – Great Lakes, Wineries, Cities & Niagara Falls
Exhilarating Ontario – Toronto, Niagara Falls and Algonquin Canoe Adventure
Self-Drive Great Lakes Treasures
Find your perfect holiday
Talk to our friendly team
01342 331796
Call us 9am-7pm Mon-Fri / 9am-5pm Sat-Sun