Exploring Montreal's tourist neighbourhoods
Read time: 5 mins
The cultural capital of Canada, this French-speaking city is the second largest city in the nation after Toronto, and it's truly unique, with an international energy among its French and English influences. The main metropolis of Quebec is situated on an island in the St. Lawrence River, with the river and the mountain used as cardinal points that serve as a directional compass. When you're downtown, the river is south, while Mount Royal is north, and the city is also divided into east and west by boulevard Saint-Laurent.
Montreal has long been a leader on the continent for urban biking, with nearly 400 miles of bike paths, some 150 of which are separated from motor traffic, and those paths are very well-maintained. There are also some 5,000 bikes available to the public for rent through the city's bike share program, BIXI. On any decent day outside of the depths of winter, you'll see cyclists everywhere you go, and it's a great way to get out and explore the city yourself, but of course, you can also wander it on foot, or take advantage of public transportation.
No matter how you can to explore Montreal's neighbourhoods, as they all have their own distinct personality yet are incredibly close together, some created centuries ago, and others only in recently years, knowing where to begin can be bit confusing at first, but this guide featuring its top tourist neighbourhoods will give you a good head start.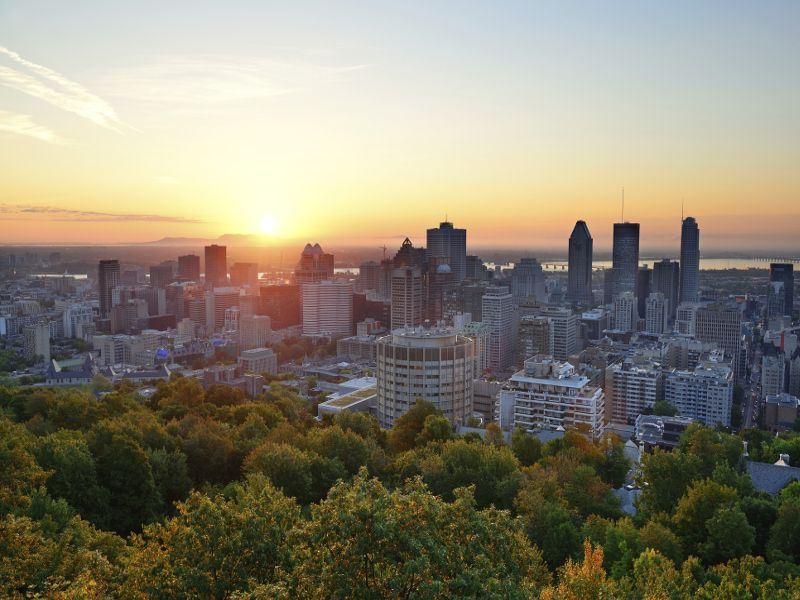 Downtown/Centre-Ville
Downtown, known as Centre-Ville in French, is home to the city's big chain and high-end luxury hotels, department stores, prominent museums, theatres, cinemas, boutiques, bars, restaurants, art galleries, corporate headquarters and major transportation hubs. It also hosts many of the city's summer festivals. It even boasts an "underground city" that makes it especially unique. Walkways and interconnected buildings are below ground level, and the majority of the hotels and shopping malls can be accessed through this extensive network that covers over 20 miles of the downtown area, allowing locals and visitors to escape the chilly weather during the colder months of the year.
Unlike many downtown areas in major cities, it's not stuffy and business-like, but full of creativity, with some of the top art museums in Montreal found here, along with huge, colourful murals that are splashed onto the sides of skyscrapers. It's an especially popular place to shop, home to Sainte Catherine Street, the longest commercial street in Canada, while Rue Crescent, on the west side, is one of the main streets for dining and nightlife. At its northern end, are elegant boutiques housed in Victorian buildings, while the southern end is home to dozens of eateries, bars and clubs.
Old Montreal/Vieux-Montreal
Old Montreal is one of the most popular neighbourhoods for tourists to visit, and the oldest and most vibrant area of the city. This is where the city was birthed in 1642, right along the river. The charming cobbled streets are lined with structures that once served as grand mansions in the city's early days, and you can still see remains from some of Montreal's very first buildings. It has a European feel, with numerous attractions, including the magnificent Notre-Dame Basilica and Place Jacques Cartier, a large, bustling square that's popular for sipping coffee and watching the street performers or checking out the goods sold by artists and crafts people. One of the best ways to explore Vieux-Montreal, and learn more about its history, is to take a horse-drawn carriage tour, where drivers will regale you with a background history of the neighbourhood and its impressive architecture.
Nightlife is hopping in Old Montreal too, with numerous rooftop bars, jazz bars, pubs and restaurants for enjoying a drink while taking in fabulous views of the city. The Old Port of Montreal sits along the river and hosts activities and events throughout the year, including summer's popular Montreal International Reggae Festival which features three days of reggae music, drawing artists from throughout Canada, and around the world. During the warmer months, you can soak up the sunshine on the manmade beach or head out on a party cruise.
Some of the not-to-be-missed sights here including touring the spectacular Gothic Revival-style Notre-Dame Basilica – 20-minute guided tours will introduce you to its history, while the 60-minute guided tours can get you into some of its "hidden" private areas that are normally off-limits to the public - and taking a stroll back in time down the oldest street in Montreal, Saint Paul Street (Rue-Saint-Paul). Saint Paul Street is lined with shops, galleries and restaurants that are housed in beautiful old buildings. It dates to the 1670s and was once the centre of the fur trade, and today, it's seems to be the place where everything happens in Old Montreal. Be sure to stop in at the 17th-century Notre-Dame-de-Bon-Secours Chapel and Marguerite Bourgeoys Museum, which share an address. The chapel has been known as the city's sailors' church and miniature wooden boats dangle from its ceiling, while the museum celebrates Montreal's first teacher, and has an archaeological site that covers 2,400 years of human history. Climb the spiral staircase for a bird's-eye view of Marche Bonsecours, with its shiny neoclassical silver dome, a beloved mid-19th century building that today houses multiple galleries and boutiques.
Chinatown
Chinatown is an 18-block area tucked between downtown and Old Montreal, with four friendship arches with stone lions at each base roughly designating its boundaries. In the summer, the street is partially closed off to vehicles, making it ideal to wander through, checking out the Asian jewellery, fashions and other items, and enjoying lunch at one of the many authentic Chinese restaurants.
While you're here, be sure to sample the unique dragon beard candy, an ancient confection that's hard to find outside of China. They're made fresh at a stand in the heart of the neighbourhood on rue de la Gauchetiere Ouest, with each one made up of more than 8,000 paper-thin strands that are wrapped around a crunch centre of chocolate, ground peanuts, sesame seeds and coconut.
Little Italy
Little Italy is an area around the Jean-Talon Market, with the historic red brick Church of the Madonna della Difesa as its focus, but most people come here to enjoy the wide range of Italian eats. It's the heart of the city's Italian community, where you can enjoy exceptional cappuccino, and watch soccer or Formula 1 at the sports bars. There are lots of shops selling Italian goods, and an abundance of outstanding Italian restaurant, Taste "the world" at the market, pick up the southern fried chicken at Dinette Triple Crown to enjoy a picnic at Parc de la Petite-Italie across the street, or chat over a bottle of wine at the Cul-Sec wine bar.
Mount Royal and Outremont
Mount Royal is considered the crown jewel of the city's parks. Situated in the heart of Montreal, it's a hub for natural beautify, outdoor and cultural activities. Walk up the gentle slopes of the mountain to soak of views of the city from one of the lookouts, and enjoy more scenic vistas from one of the many trails that crisscross the park. Afterward, head to the base of the mountain, and stroll the streets of Outremont that are lined with numerous eateries, chic chops and gorgeous homes.
Mile End/Plateau Mont-Royal
The Mile End is Montreal's creative hub, home to musicians, writers, artists and filmmakers as well as hosting entertainment venues, art galleries and bookstores, with Theatre Rialto serving as the anchor. Today, the 1920's neo-baroque theatre presents a variety of comedy, dance, music, drama, burlesque and cabaret. A hipster enclave, this neighbourhood it has a thriving foodie scene, and a number of interesting vintage shops along with a quirky, artsy vibe – the Mile End has even been called the most "artsy neighbourhood in North America." Be sure to walk the side streets too, where there are many colourful houses to marvel at.
The Plateau flanks the north side of Mount Royal. Less touristy, this is where you'll find many locals hanging out, dining, shopping and living. By strolling down Avenue du Mont Royal, and the side streets, there are a number of clubs, laid-back bars, cultural eats and artisan boutiques to explore.
The Village
Also known as the Gay Village, the Village, is one of the largest gay and lesbian neighbourhoods in North America, sprawled along Saint Catherine Street between the St. Lawrence River and the Plateau. Once the city's roughest area, it's been transformed into a vibrant district and one of the city's liveliest party hubs with over 80 bars and restaurants that serve Montreal's LGBT community, and anyone else who once to enjoy an alternative night on the town. In the summer, Saint Catherine Street becomes pedestrian only, while ad-hoc terraces are built for enjoying dining and drinking under the sun.
The Islands/Parc Jean-Drapeau
Ile Ste-Helene and Ile Notre Dame are islands linked by two bridges that make up Parc Jean-Drapeau, which is nearly car-free. The park hosts a number of attractions, including Casion de Montreal, the Aquatic Complex and the La Ronde amusement park, Eastern Canada's largest, which is world-famous for the "Monstre," the largest two-track wooden roller coaster on the planet. It features other thrill rides and family-friendly rides for the little ones as well as hosting live entertainment and special events.
Parc Jean-Drapeau also boasts miles and miles of scenic trails, providing an outdoor escape and the chance to connect with nature just steps from downtown. While you hike, you can check out the city's collection of art works, most of which were created for Expo 67, and on display in the gardens and along the trails.
Find your perfect holiday
Talk to our friendly team
01342 331796
Call us 9am-7pm Mon-Fri / 9am-5pm Sat-Sun