Once the temperature has risen and the snow has melted, Sun Peaks comes alive with a great variety of outdoor activities, and here are our favourites.
Hiking
There are some beautiful hiking trails in the area, ranging from a simple stroll to stretch your legs and enjoy the fresh air to more demanding hikes to get your blood pumping. There are daily guided alpine hikes that we can pre-book for you, departing from the village daily at 10.00 and 13.00 and lasting two hours. You will experience the prettiest trails with the best panoramic views, and learn about the local flora and fauna.
Click here for our comprehensive guide to the best hiking trails in and around Sun Peaks
Credit: Peter Olson
Mountain Biking
Sun Peaks has a well-deserved reputation for fantastic mountain biking, with over 40 distinct trails covering 65+ KM's. The Sun Peaks Bike Park offers exciting options for riders of all ages, ability levels and terrain preferences. There is a new alpine route which takes the full elevation of the lift-accessed trails to 2,500 feet. You can hire bikes and protective equipment in the resort and there is a great online guide detailing what to ride and where, plus the Bike Park rules and requirements. The number of bikers on the mountain is controlled, so you should purchase a ticket online before you go as a day pass might not be available when you arrive.
Credit: Blake Jorgenson
Kayaking and Canoeing
Located 6km from the Sun Peaks village, McGillivray Lake is a beautiful spot to canoe or kayak. You can arrange the rental of all equipment at Guest Services in Sun Peaks village then drive over to the lake. It's about 2km long and pretty shallow in most places. It's surrounded by wilderness and has great views of Tod Mountain, so you can really enjoy a leisurely paddle around this alpine lake.
If you're looking to swim then Heffley Lake is the best place to go – about a 15-minute drive from the resort. This pristine lake is a nice place to take a picnic and cool off with a swim. You can also rent Stand up Paddleboards here. Don't forget to take a towel, sun screen, sun glasses and plenty of water to stay hydrated.
Golf
The golf course at Sun Peaks is pretty unique, with the greens located at 1,200 metres above sea level, making it British Columbia's highest elevation course. The bonus of the higher elevation is that your ball flies longer, you'll also enjoy the cooler summer days provided by the higher mountain air. This challenging 18-hole course is surrounded by natural foliage and panoramic mountain views, and centred along the valley floor with three surrounding mountains, Tod, Sundance, and Morrisey. It's a great course for all abilities and equipment can be rented.
Credit: Kyle James
Horse Riding
Sun Peaks Stables, located next to the Burfield chairlift at the entrance to the resort, offers horseback trail rides. The trail rides take place in small groups and are suitable for beginner to advanced riders. All trail rides start with meeting your horse and helping to groom and saddle them. At the end of the ride you are invited to groom and assist with water buckets, hay, etc. or just hang around with your new friend for some pictures and pats. Actual time in saddle varies according to rider ability and other factors.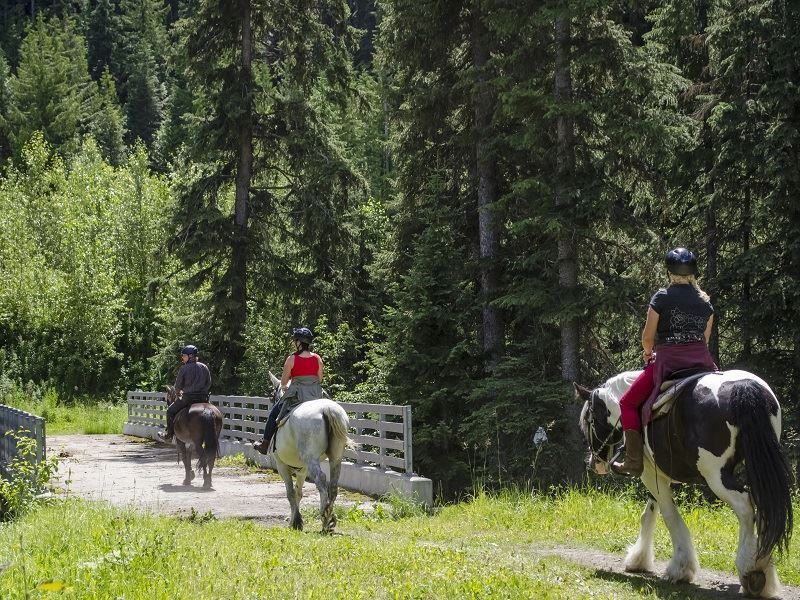 Tennis
Enjoy a friendly knock about or crunch match on the tennis courts at Sun Peaks with Mount Tod as your backdrop. You can rent equipment when you book the courts and they're open from early morning until well into the evening, giving you plenty of time to fit in a game to make the most of your time in Sun Peaks.
Discover Sun Peaks on a Canadian Sky tailormade self-drive tour:
Experience BC - Wineries and Walks
Explore BC - Mountains, Wilderness and Ranches
Find your perfect holiday
Talk to our friendly team
01342 331796
Call us 9am-7pm Mon-Fri / 9am-5pm Sat-Sun