Getting around Sun Peaks and where to stay
Read time: 6 mins
Sun Peaks Resort, tucked into a valley enveloped by three mountains, Mt. Morrisey, Sundance and Tod Mountain, may be most famous for its winter sports, often named among the best ski resorts for families in North America, but this mountain paradise offers lots to do during the warmer months of the year as well. Not only are there are variety of outdoor adventures to be enjoyed, but concerts, festivals and other fun events hosted most weekends in the summer.
What's in this guide?
• Getting to Sun Peaks from the UK & Ireland
• How to reach Sun Peaks from the airport
• Getting to Sun Peaks' top attractions
• Experiencing Sun Peaks' annual events
• Finding Sun Peaks' top restaurants and shopping venues
• Where to stay in Sun Peaks
Getting to Sun Peaks from the U.K. & Ireland
The easiest way to get to Sun Peaks from the U.K. and Ireland is to fly to Calgary International Airport first. There are non-stop flights from London to Calgary via British Airways, WestJet and Air Canada, and while are no nonstop flights from Dublin, Ireland, numerous airlines can get you there, like Aer Lingus, British Airways, KLM, Delta and Air Canada. Once in Calgary, WestJet offers flights to Kamloops, B.C., which is 45 minutes south of Sun Peaks.
If you're hoping to see more of British Columbia, you may want to fly into Vancouver, B.C. with non-stop flights available from London via multiple airlines, including British Airways, American Airlines, WestJet and Air Canada, and connecting flights available through the same airlines and others from Dublin, Ireland.
Sun Peaks is a great stopover point when driving through the Rockies, located pretty much half way between Vancouver and Calgary.
How to reach Sun Peaks from the airport
Travelling from Vancouver International Airport there are daily airport shuttles available between November 1 and April 30 that can bring you direct to Sun Peaks, or you can hire a car from either Vancouver or Calgary.
Getting around Sun Peaks
Most attractions, activities, shopping and dining at Sun Peaks is within a short walking distance, so you can easily get around on foot; however, if you want to get out and explore beyond the resort, you may want a car.
Getting to Sun Peaks top attractions
Hiking
There are 18 designated hiking trails here, with everything from gentle strolls to challenging treks up mountain summits. Hikers can begin right in the village, or hitch a ride in the Sunburst chairlift, starting at mid-mountain from 6,000-feet above sea level. From mid-July to mid-August, the scenery is even more impressive with the alpine meadows dotted with a kaleidoscope of colour. Guided hiking tours are available led by expert local guides who can help you make the most of your time out on the trails, from panoramic vistas and vibrant wildflowers to historic artefacts. For more information or to book a reservation, contact Elevation Bike, Ski & Board in the Sun Peaks Grand Hotel.
Horseback riding
Sun Peaks Stables, located just over 1.4 miles west of the village off Sun Peaks Road, offers horseback trail riding, riding lessons, wagon and carriage rides during the spring, summer and fall months. Choose from two- or four-hour excursions that will allow you to take in gorgeous views and the opportunity to spot wildlife like black bear and mule deer, or, take a group or private riding lesson.
From spring through autumn, embarking on one of the private, custom tours on a carriage driven by a team of draft horses around Sun Peaks and the Village is really a must.
Kayaking and canoeing
Visitors can rent two-person kayaks or canoes for a half- or full-day paddle around picturesque McGillivray Lake, a less than four-mile drive from Sun Peaks village.
Golfing
The Sun Peaks' golf course is the highest elevation course in the province, located in the valley between the mountains, offering spectacular panoramic views on a challenging 18-hole par 72 Graham Cook course. The front and back nine, with the latter at a higher elevation, are distinctly different making it almost like playing two courses in one.
Mountain biking
Sun Peaks is one of the best places for downhill mountain biking in the summer, offering 2,000 vertical feet of terrain that is accessed by lift and 40 trails ranging from flowing machine-made to technical single-track, along with colourful wildflowers that highlights that dramatic mountain scenery. The cross-country trail network is free to access and right in the valley, with routes that bring riders from the village to all three surrounding mountains, including forested wilderness trails that are ideal for beginners and families with younger children. There is also a new Bike Skills Park, accessed at the Bike Park Carpets, which is ideal for kids and beginners to practice core mountain biking skills. It features a selection of mini-berm lines, a drop section and jump line.
Downhill and cross-country bike rentals, and all the gear you need like gloves and helmets, are available right in the village from Elevation Bike, Ski & Board. Daily lessons and tours are offered with local, experienced guides as well.
Alpine yoga
Alpine yoga combines the beauty of the mountains with a refreshing yoga session. Meet your instructor just outside of Guest Services at the Village Day Lodge and then embark on a short hike through alpine wildflower-filled meadows to a remote location on the mountainside. After the 45-minute yoga practice you'll make the return hike to the on-mountain Sunburst Lodge where you can refuel at the Sunburst Bar + Eatery while enjoying more beautiful views.
Fly fishing
Fast Acting Fishing Adventures provides professionally guided fly-fishing trips throughout the Sun Peaks area, with all equipment and transportation provided. It's a great opportunity to learn the basics of fly fishing in one of the best destinations in the world, known especially for its "Kamloops" rainbow trout. Transportation to and from the resort is included.
Experiencing Sun Peak's annual events
Mountain Spirit Festival
Hosted at the start of summer, the Mountain Spirit Festival offers a weekend of self-discover, with wellness workshops, yoga and a variety of outdoor experiences.
Canada Day Weekend
Canada Day weekend, which celebrates the national day of Canada on July 1st (June 29 through July 1 in 2019), may be worth planning a trip around with all sorts of family-friendly activities in the village as well as a free summer concert at slopeside.
Alpine Blossom Festival
The last weekend of July brings the Alpine Blossom Festival, honoring the peak of the wildflower season with all sorts of activities and entertainment in the village. It's also an ideal time for a scenic ride on the Sunburst Express chairlift that provides access to mountain biking and hiking trails.
Retro Concert Weekend
Hosted around the third weekend of August (August 23 through August 25 in 2019), Retro Concert Weekend brings live tribute bands to The Annex at Sun Peaks with the forest provided a magnificent backdrop to the show.
Finding Sun Peaks' top restaurants and shopping venues
Sun Peaks offers a long list of dining options, from cheap eats to more upscale restaurants serving steak and seafood, and just about everything in between.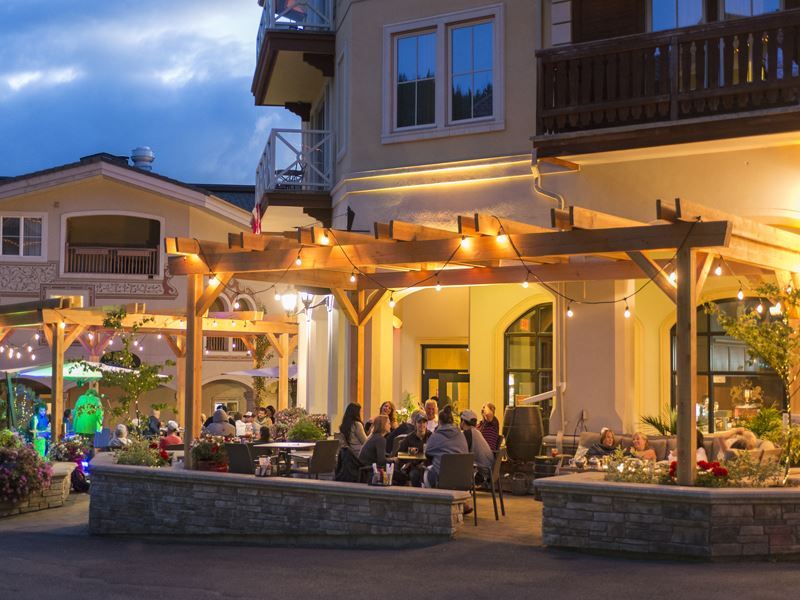 • 5Forty Cafe & Cantina – This popular café inside the Fireside Lodge is open for breakfast, lunch and dinner, with items like wraps and burgers the favourites.
• Powder Hounds Restaurant – Also located in the Fireside Lodge, Powder Hounds is considered a must-experience with an international menu that includes lots of Austrian and Germany fare like schnitzels and Karoffelauflauf (a potato casserole), along with Canadian and Asian-inspired dishes.
• Mantles Restaurant and Lounge – The most popular eatery can be found in the lower lobby of the Sun Peaks Grand Hotel. It offers a family-friendly dining experience for breakfast, lunch and dinner with dishes based on local, farm-to-table ingredients like Herbed Chicken Supreme and Red Wine Braised Lamb Shank.
• Steakhouse at Sun Peaks Lodge – The place to go for steak, with house cuts of 100% Canadian beef, as well as seafood and BBQ ribs.
• Morrisey's Public House – This Irish-style pub located in the Residences of the Sun Peaks Grand Hotel is a popular gathering spot for watching live sporting events and music while dining on comfort foods and sipping craft beers or cocktails.
While Sun Peaks isn't a shopping destination, the resort does offer multiple boutiques and specialty stores, souvenir shops and more. If you aren't driving, you can also hop on the shopping shuttle to Kamloops to take advantage of the wide range of options there.
• Three Peaks – Offering everything for the outdoor adventurer, Three Peaks, found in the Residences of Sun Peak Grand Hotel, sells all sorts of Patagonia items from outerwear to base-layers, technical gear, luggage, casual clothing and accessories.
• Lone Wolf Gallery – This local shop in Coast Sundance Lodge is a favourite, with a wide range of gifts and souvenirs, including postcards, jewellery, art, sculptures, greeting cards, music and more.
• John Tod Trading Co – Set underneath the Clock Tower, John Tod is the spot to go for Sun Peaks' logo clothing and accessories like t-shirts, hoodies, vests, sweaters, jackets and hats.
• Sneaky Scallywags – A popular store for the whole family found at the Sun Peaks Grand, you'll find lots of gifts branded 'Sun Peaks Canada,' including clothing for men, women and children as well as toys and what's known as the CANDY WALL, featuring Jelly Belly jellybeans and a variety of bulk candies like gummies and chocolate.
• North Face Mountain Outfitters – Located in the Sun Peaks Grand Hotel, this is where you'll find all The North Face gear you could ever need, including performance clothing and outerwear, the latest footwear, lifestyle clothing, kids' clothing and more.
Where to stay in Sun Peaks
Check out our featured hotels here and click here for our suggested flydrive itineraries
Find your perfect holiday
Talk to our friendly team
01342 331796
Call us 9am-7pm Mon-Fri / 9am-5pm Sat-Sun