Top 10 things to do in Yukon Territory
For swathes of pristine wilderness, soaring mountain peaks, crystalline lakes, and a fair few gold rush tales, nothing beats Canada's Yukon Territory. Here's the top 10 things to do in the country's westernmost outdoors playground that stretches from the British Columbia border all the way up to the Arctic Ocean.
#10
Check out the Yukon's flourishing vibrant arts scene
The arts scene in Yukon has kicked off in a big way, especially in the capital of Whitehorse where there's twice the national average of artists per capita than in any other Canadian capital city. Most visit-worthy is the North End Gallery on the Whitehorse Waterfront, especially for those wanting to gorge on original paintings and prints by classic and contemporary Yukon artists. There's also a part of the gallery devoted to First Nations artisans, so expect to see masks, carved panels and drums, jewellery crafted from gold nuggets, unique etchings, and Inuit sculptures. Should time allow, check out the Arts Underground for works by Yukon Art Society Members, the Yukon Artists At Work Gallery for offerings by emerging and established talents, and the Fortymile Gold Workshop where you can watch the goldsmith owner at work. If you're visiting the Yukon in August, the Yukon Riverside Arts Festival in Dawson City hosts exhibitions, workshops, lectures and public installations as well as a town-wide gallery hop.
#9
Enjoy a backcountry adventure at the Tombstone Territorial Park
A rugged wilderness filled with jagged peaks, abundant wildlife and some of Canada's most challenging off-trail hiking, this 2,200-kilometre-square expanse in the Ogilvie Mountain Range was established in 1999 following a land agreement with the Tr'ondëk Hwëch'in - a First Nation band government. Following a six-hour drive (or 45-minute plane hop) from the Yukon capital of Whitehorse, it's worth heading straight to the Tombstone Interpretive Centre for trail maps, camping permits, and superb information about how best to navigate this powerful terrain. Must-dos include seeking out the 70-plus First Nation ecological sites, spotting caribou, moose, grizzly bears and wolves, and working of which of the 130 types of birds is the Gyrfalcon (the fierce predator that's the largest of the falcon species). Most worthy of your attention are the established trails on Hart Winter Road, Goldensides, Angelcomb, Grizzly Creek and Foxy Creek Trails - most of which are extremely remote and best suited to experienced hikers who aren't bothered that there's no mobile phone signal for miles around.
#8
Learn about the Klondike Gold Rush in Dawson City
The city that grew out of a marshy swamp near the confluence of the Yukon and Klondike Rivers following the historic discovery of gold on Bonanza Creek in 1896 is still very much the heart and soul of the Klondike Gold Rush. Must-dos include panning for gold on a Goldbottom Mine Tour, visiting the fascinating boat graveyard for steamship paddle wheelers, and catching one of the high-kicking can-can shows at Diamond Tooth Gertie's Gambling Hall - Canada's first legalised gambling hall that opened in 1971. Further city pleasures include checking out the ODD Gallery at the Klondike Institute for Arts and Culture (KIAC), visiting the Jack London Museum to learn more about the life and works of the White Fang author, and knocking back a Sourtoe Cocktail (a famed drink seasoned with an amputated toe) at the Sourdough Saloon. Most compelling for history buffs is visiting Discovery Claim on Bonanza Creek to see the very spot where three miners (Jim Mason, Tagish Charlie and George Carmack) famously struck gold on 16 August 1896, spawning the one of the greatest migrations of the 19th century.
#7
Lace up your boots and hit the famous hiking trails
For leisurely day hikes and more challenging multi-day treks, the 186,661-square-mile Yukon delivers. The most iconic route is the 33-mile-long Chilkoot Trail where the most dedicated of walkers can follow in the footsteps of thousands of Gold Rush stampeders as they work their way through the Coast Mountains that lead from the Alaskan ghost town of Dyea to Bennett in British Columbia. A designated national historic site, this historical and gruelling journey takes around three to five days and assures sightings of boat skeletons, wagons, tram wheels, rusty stoves, and even shoes - all of which are the untouched remains of Chilkoot pioneers. Equally impressive are the Montana Mountain Trail for is old mining ruins and full-day climbs into the alpine landscape, the Angelcomb Peak Trail for its great views up the East Blackstone River, and the Nares Mountain Trail for its wind-scoured slopes and stunning vistas. For first-timers (or those who fancy something less demanding), the easy-to-navigate Fish Lake Trail close to Whitehorse offers grassy hills, spring flowers, a cold alpine lake, and dazzling views.
#6
Soak your stresses away at the Eclipse Nordic Hot Springs
For feel-fabulous bathing, these historic and therapeutic hot springs discovered several centuries ago by the First Nations People are just 30-minutes from downtown Whitehorse. Since the Fifties, the pool made from wood and canvas has been replaced and developed into two connecting pools; the 1.2-metre-deep hotter pool filled with 40ºC waters, and the 2-metre slightly cooler pool filled with 35ºC waters. Unlike most hot thermal springs, both are modelled on traditional swimming pools, so it's easier to float around while soaking up the water's rich concentration of calcium, magnesium, iron, sodium, silica and potassium. Open daily, it costs just £7 a soak - or even cheaper if you buy a pass. Please note that there's no on-duty lifeguard and children are not allowed in the water after dark. If you're visiting in February, don't miss the annual International Hair Freezing Contest where visitors are invited to dunk their head in the thermal waters, let it freeze in the rather bitter -30 º C air above (this takes under a minute), and then style it accordingly. The springs also host a number of themed events throughout the year, including mums-go-free on Mother's Day - and the same for dads on Father's Day.
#5
Gaze at the sky to spot to the dazzling Northern Lights and make the most of the midnight sun
Persistence pays off when you're staking out the mesmerising Aurora Borealis, otherwise known as the Northern Lights. Chances are, if you're visiting the Yukon between late-August to mid-April you'll likely to catch a glimpse of these swirling ribbons of neon green, pink, purples, red and white as they dance across the star-filled night sky. Viewing Mother Nature's coolest light show depends solely on geomagnetic activity, so be prepared to stay up late (typically midnight), wrap up warm, and use a camera with a wide-angle lens and sturdy tripod for the best possible shots. Whilst this stunning light show is visible across the territory on a clear night, the best viewing spots for amateur stargazers and astronomy buffs are either outside the town of Whitehorse or at the Northern Lights Space and Science Centre on Watson Lake. Equally thrilling is experiencing Yukon's midnight sun - a phenomenon that occurs from the summer solstice (21 June) onwards when the sun no longer sets and it's practically always daylight - even at midnight.
#4
Cycle along the McDonald Creek Trail and Ridge Road Heritage Trail
The Yukon is widely known for its world-class (and often gnarly) trails, all of which are worth pedalling for. One of the best cycle routes is the 23.30-kilometre-long McDonald Creek Trail - a single track that climbs the Montana Mountain Road for the first third of the journey and then leads onto a fast-flowing trail down a historic wagon trail. Highlights along the way include Bennett Lake, Tin Cup, and Wayne's World - the trail named after long-time Carcross resident and mountain bike trailblazer Wayne Roberts. The journey takes between three to six hours and is best suited for strong cyclists. For more breathtaking biking, hit the 33-kilometres-long Ridge Road Heritage Trail - the Yukon's first government-built wagon road that became a major supply route to mines on Dominion and Sulphur creeks. Allocate half-a-day to ride this moderately- challenging trail that starts at Jackson Gulch Trailhead on Molison Drive in Dawson City and ends at Soda Station - an old box car used for storing mining supplies.
#3
Get stuck into wild wilderness paddling in a canoe, raft or kayak
If you're keen to paddle your way through paradise, there's no shortage of classic river trips and off-the-beaten track canoe, rafting and kayaking routes in this vast Canadian wilderness. Choose from tried-and-tested waterways such as the Teslin, Big Salmon or Yukon River - or wade through the fast-flowing waters or rapids of the more exhilarating Snake, Bonnet Plume, Wind, Alsek and Tatshenshini. For first-timers who fancy paddling past wildlife such as moose, bears, beavers, eagles and wolves, nothing beats the Nisultin River - the flat and sleepy watercourse that's also ideal for those who are new to canoe trips or have small children in tow. Further aquatic thrills are found at Emerald Lake on the South Klondike Highway. Here you can marvel at the Jewel of the Yukon - a glistening expanse with intense blue-green hues created by sunlight reflecting off a white layer of marl (calcium carbonate clay) on the bottom of the lakebed. You'll find plenty of operators throughout the region offering half-day or full day self-guided river trips, all of which should provide the appropriate rental equipment and transportation.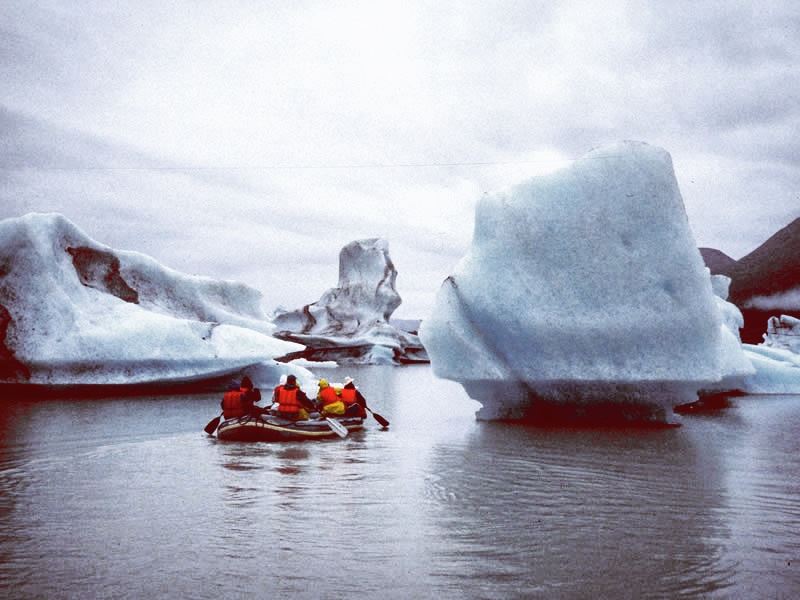 #2
Take a self-guided walking tour or bus ride at Yukon Wildlife Preserve
Just 25 minutes from downtown Whitehorse, this 700-acre conservation area is home to 11 species of northern mammals in their natural habitat. Expect to see woodland caribou, elk, mountain goat, Yukon moose, mule deer, muskox, thinhorn sheep, red and Arctic foxes, lynx, and a baby moose. Visitors have two viewing options: the guided 90-minute interpretive bus tour (£14 per person) that follows the park's five-kilometre-long loop, or the self-guided walking tour (£9 per person) that allows you to take things at your own pace. Aside from marvelling at the wildlife roaming freeing over low-lying flatlands, wetlands, rolling hills and steep cliffs, you may even get lucky and hit feeding time at one (or more) of the enclosures. The park opens daily, but closes to the public when temperature drops below -40 ºC. As a non-profit organisation, the park is a member of the International Wildlife Rehabilitation Council (IWRC) and is dedicated to helping injured or orphaned animals to recuperate and eventually return to the wild.
#1
Get a high-altitude view over Kluane National Park Glacier & Reserve
While the 8,499-square-mile UNESCO-listed expanse of unclimbed peaks, vast green valleys, clear lakes, and the world's largest concentration of non-polar ice fields is spectacular at ground level, nothing beats hopping aboard a prop plane or helicopter for high-altitude views. From May to September, there's several local companies offering one- or two-hour flights deep into the Kluane National Park Glacier & Reserve's untouched interior to reveal staggeringly huge ice fields, stunning alpine meadows, and around 2,000 glaciers - some of which are a kilometre thick. But it's the showstopping snow-capped mountains that are most awe-inspiring; especially the 5,959-metre-high Mount Logan that's the highest mountain in Canada and the second highest peak on the continent with the largest recorded base circumference. And there's ample wildlife spotting opportunities too, given this place is home to some 150 bird species, Dall sheep, white-tailed deer, grizzly bears, caribou, moose, wolves, and much more.
Find your perfect holiday
Talk to our friendly team
01342 331796
Call us 9am-7pm Mon-Fri / 9am-5pm Sat-Sun