Top 10 things to do in Nova Scotia
Read time: 9 mins
Anchors aweigh – with beautiful, sweeping coastlines, quaint and colourful fishing towns, rolling green hills and sparkling waters, Nova Scotia is definitely a feast for the eyes. But there's plenty to keep you entertained in this charming maritime region, too. From fascinating lighthouse tours and luscious vineyards, to the bustling Halifax Waterfront, expansive National Parks and fresh seafood, we've compiled a list of the top 10 things to do when visiting this nautical splendour.
#10
Luckett Vineyards
Where: You'll find the green and pleasant lands of Luckett Vineyards located on the northwest coast of Nova Scotia within the Annapolis Valley region, overlooking Gaspereau Valley, close to the Bay of Fundy.
What: This is one of Nova Scotia's finest vineyards set amongst the dairy farms and fruit orchards of the Gaspereau agricultural community. Luckett's is open throughout the summer, from May to October, with award-winning wines and gourmet local food enabling visitors to taste the good life in Nova Scotia.
Highlights: The Barrel Cellar is an ideal setting for wining and dining with a good choice of group and more intimate events offering the chance to taste the very best produce that the vineyard, and the region, has to offer. The Crush Pad Bistro is also on-site and gives guests the opportunity to indulge in a little alfresco dining with great views and even better food to complement a wine tasting session. Other than that and it's the ambience that is the highlight of Luckett Vineyards with peace, tranquillity and a lush green carpet that stretches all the way to the cool blues in the Bay of Fundy.
#9
Tour the Nova Scotia lighthouses
Where: The southern shoreline of Nova Scotia is where you'll find the majority of the province's 150+ best loved historic lighthouses with Queens County and Shelbourne County, providing the lion's share of red and white striped towers.
What: Nova Scotia boasts the largest quantity of lighthouses of any Canadian province including North America's earliest continually functioning lighthouse, Sambro Island, which is situated at the Halifax Harbour entrance. The NSLPS (Nova Scotian Lighthouse Preservation Society) was set up to maintain and look after one of Nova Scotia's most important maritime heritage symbols and provides help and ideas on tours and independent itineraries, including which lighthouses are open to the public and at what times of the year.
Highlights: Peggy's Point, Sambro Island, Louisbourg, Low Point and Point Prim are some of the most famous lighthouses in Nova Scotia and certainly worth adding to a walking tour if you're heading along the coast. Hiring a bike and cycling along the coastal trails is a fab way to take in many of the province's most popular landmarks with the Lighthouse Route along the South Shore certainly a highlight, if only for the awesome sea views and great choice of picnic spots. Finally, check out the Yarmouth Cape Forchu Lighthouse for a completely unique perspective.
#8
Halifax Waterfront
Where: Nova Scotia's capital city can be found in the middle of the province's South Coast with the harbour waterfront area running for around 3 kms from Halifax Seaport in the south to Casino Nova Scotia in the north.
What: There's a fantastic board walk open to the public that encompasses the entirety of Halifax Waterfront with an array of artisan shops, heritage buildings and history museums, featuring exhibits on immigration, the Atlantic and naval history.
Highlights: The museums: Pier 21, Canada's National Immigration Museum, the Maritime Museum of the Atlantic and the ships CSS Acadia and HMCS Sackville, are really worthwhile and well worth a visit on a blustery day. There are several historic warehouses which also give you a feel for how Nova Scotia used to be in the Napoleonic era with tales of pirates and smugglers adding to the appeal of Canada's maritime history. Aside from the cultural points of interest, Halifax Waterfront is an ideal location for a stroll down by the water with a trip to Garrison Brewery definitely a great idea for those seeking full flavoured sustenance.
#7
Nova Scotia's park life
Where: From Canada's earliest public park, Halifax Common, to the seaside setting of Point Pleasant Park, Halifax is one of the best locations to discover the green and pleasant park lands of Nova Scotia. Aside from the capital, the rest of the province is also blessed with loads of wide open spaces with Heather Beach, Kejimkujik and Long Lake all provincial and national parks worth heading to when the sun is shining.
What: The area in and around Halifax is particularly abundant in public parks including several seaside settings, historic sites and forested areas making up a rich variety of naturally peaceful places if you're looking to get outdoors and enjoy the fresh air.
Highlights: Annapolis Royal Historic Gardens, located in Annapolis Royal on the North Coast, is definitely worth a visit if you're into your horticulture as there's almost 20 acres of themed flower beds and lawn space that has been lovingly created to tell the story of the first European settlers who arrived in Nova Scotia over 400 years ago. Victoria Park in the town of Truro is also well-worth a mention with numerous natural water features and an extensive cycle and trail system making it one of the best in the whole province.
#6
Hike Cape Split
Where: Situated just off the Bay of Fundy coastline, this patch of headland is the last visible remnants of the North Mountain range before it disappears into the swirling tidal currents of the Minas Channel. To get there follow Highway 101 until you reach Exit 11 signed to 358 North whereupon you'll continue to follow signs to Scott's Bay and then onwards to Cape Split and the car park.
What: Cape Split headland is separated from the main part of the Bay of Fundy and runs for around seven kilometres flanked by precarious precipices but don't worry as there's a good few kilometres in between. The Cape Split hike itself requires you to walk to the end and back so is about 16 kms in total and takes approximately three to five hours to complete. It offers some of Nova Scotia's most iconic coastal scenery as well as following an old wooded road inland from where you'll pick up a well-maintained track that's easy to follow although a tad muddy in places, especially after heavy rain.
Highlights: The absolute highlight of the Cape Split hike, other than all of that bracing sea air, is after you've completed the wooded inland section of the trail you'll appear out the other side to glorious views overlooking the bay. The grassy field in front of the spectacular setting makes an ideal spot to soak it all in with the crash of waves on cliffs and rocks forming the background music for an unforgettable picnic.
#5
Dine on the world's freshest lobster
Where: You'll find several restaurants and seaside cafés advertising the freshest and tastiest lobster in Nova Scotia with the Shore Club in Hubbards on the South Shore, and the working lobster fishing community of Halls Harbour, located along the Bay of Fundy, just a couple of genuine contenders. Aside from the eateries, dining on the world's freshest lobster is all about how quickly you can catch and cook the critters and there's nowhere to taste the absolute creme-de-la-creme of fresh lobster dripping with butter other than right on the beach directly after it's been towed to shore.
What: Lip-smackingly great grub, that's what! Lobster is to Nova Scotia what salmon is to Scotland and if you're looking to tuck into a claw or three no matter whether they're freshly grilled, steamed, boiled or cold in a sandwich then there's no other east coast Canada taste sensation to enjoy with a healthy dose of sea breeze.
Highlights: Grilled on the beach and just as nature intended is definitely the best way to tuck into the world's favourite lobster although there's a lot to be said for chowder and crusty baps. Pepper, lemon and a pat of butter always perk up that freshly caught feeling and if you're looking for the best time to eat lobster then May right the way through to the end of the year is considered the best time for quantities as well as quality. Try a dish of chilled lobster with warm butter and potatoes for a really authentic bite of life in Nova Scotia.
#4
Kejimkujik National Park & National Historic Site
Where: Situated within Nova Scotia's mid-west upland interior sandwiched on the borders of Queens County and Annapolis County.
What: This is a 404 km2 park and designated National Historic Site of Canada. Amongst all the forest plains and wetlands you'll find numerous rivers and lakes, with interior camping and hiking trails adding to the sense of enjoying life in the great outdoors. Although there are known to be black bears living in Kejimkujik National Park they're rarely seen and you're far more likely to hear the sound of a wild coyote or the hoot of an owl as you would do the growl of a big ol' bear.
Highlights: The park is committed to preserving its untouched and peaceful nature with the sky no exception, especially at night. Thanks to the lack of artificial light and the preserved quality of the forests and lakes Kejimkujik has been cited as a Dark Sky Preserve and attracts stargazers from across North America as well as helping to further conserve the naturally wild habitat of Nova Scotia.
#3
Cape Breton Highlands National Park
Where: Located within the north of Cape Breton Island which, although a part of Nova Scotia, can be found just off the east northeast coast of the peninsula connected by the man-made Canso Causeway.
What: Cape Breton Highlands National Park was the first of its kind within the Maritime provinces and covers just over 949 km2. Much of the park features boreal and Acadian forests streaked with rivers and waterfalls and at Keltic Lodge, there is also an 18-hole golf course that's considered to be one of the best public courses in the whole of Canada. A rocky Atlantic coastline makes a superb target for walking trails with the chance to spot whales, dolphins and grey seals off shore an extremely rewarding experience after a good day's hike.
Highlights: As the northern section of the 300 km Cabot Trail passes through Cape Breton Highlands National Park it's an inevitable highlight and promises some stunning ocean views accompanied by numerous species of sea bird and marine life. An easy but nonetheless worthwhile hiking trail to try whilst in Cape Breton Highlands National Park is the Skyline Trail that runs in a loop for around four miles and includes a board walk which features some great scenery overlooking the Cabot Trail. Moose, gannets, porpoises and pilot whales can all be seen at regular intervals off the Skyline Trail and if you're looking for some of the best coastal scenes in the whole of Nova Scotia then don't forget your walking boots when you head to the Highlands.
#2
Head out on a whale watching adventure
Where: There are numerous whale watching tour operators setting sail from the Atlantic shoreline of Nova Scotia with the Eastern Passage, Bay of Fundy, Bay of Saint Lawrence and Pleasant Bay all highly recommended starting points from where to catch a glimpse of pilot whales as well as porpoise, seals, dolphins and a whole host of sea birds.
What: Many whale watching tours include a trip on a Zodiac to help you get closer to the action and it's definitely best practice to jump on-board a small craft that has as few passengers as possible in order not to disrupt the environment and whales' natural behaviour patterns. These types of whale watching trips have been taking place since tourists have been coming to Nova Scotia and booking with one of the top tour operators will mean that you get the benefit of expert knowledge, high quality safety standards and the highest possible levels of respect for the marine ecology of the Atlantic Ocean both above and below the water.
Highlights: Catching sight of a whale breaching as a tail slaps down on an Atlantic swell is absolutely not to be missed and although whales are invariably the stars of the show, just that feeling of being out on the ocean wave and seeing Nova Scotia from a new perspective is definitely worth the fee alone.
#1
Visit all five of Nova Scotia's UNESCO sites
Where: Joggins Fossil Cliffs are located in Cumberland County on Nova Scotia's North Coast; the cultural heritage landscapes of Grand-Pré appear in Kings County to the east of Annapolis Valley; Old Town Lunenburg is situated on the South Shore in Lunenburg County; Southwest Nova Biosphere Reserve features within Kejimkujik National Park, the Bay of Fundy and the meadows of Annapolis Valley; and last, but by no means least, Bras d'Or Lake Biosphere Reserve can be found on Cape Breton Island.
What: Having five UNESCO designated sites just shows us how much there is to be thankful for in Nova Scotia as from stunning highland scenery and coastal landscapes to heritage filled harbours and star dotted night skies, visiting all five of Nova Scotia's world renowned sites will leave you in no question as to the inspirational natural beauty of this part of eastern Canada.
Highlights: The Bay of Fundy setting quite rightly deserves a mention as Joggins Fossil Cliffs offer not only access to 15 kms worth of exposed rock layers but also some cracking views over the bay's highest of high tides. The consistent coastal erosion has uncovered evidence of plant and animal life from 300 million years ago making Joggins Fossil Cliffs one of the most complete remnants of Nova Scotia's past. Grand-Pré is renowned for its marshlands, cultural heritage and archaeological sites which have helped to form a landscape that showcases traditional farming and agricultural techniques as used by 17th century Acadians. The Grand-Pré landscape is recognised as a prime example of how early European settlers worked the land and coped with the harsh reality of life on the Atlantic coast which included one of the world's most extreme tidal system. As one of North America's best preserved examples of an early British colonial urban town, Old Town Lunenburg has quite rightly been designated a UNESCO World Heritage Site and is well worth a visit if you're visiting the South Shore. The hammer of iron, tall ship sails rising above the harbour and pastel painted homes and frontages add to the maritime heritage of the Fisheries Museum of the Atlantic and a fantastic aquarium which comes complete with a replica of the famous schooner: Bluenose II. Incorporating Kejimkujik National Park, the Bay of Fundy and the Tobeatic Wilderness Area says it all and if you're wishing to swing on a star then Southwest Nova Biosphere Reserve is certainly one of the darkest and best preserved night skies from which to do just that. Offering over three million acres of coastal and inland scenery, the Southwest Nova Biosphere Reserve is one of Nova Scotia's core protected regions and the perfect place to hike, kayak or explore cultural heritage abundant Acadian villages by day before disappearing into a stunning star-filled sky at night. Finally, as the Bras d'Or Lake Biosphere Reserve is situated on Cape Breton Island it has managed to retain almost all of its natural and untouched character with beaches, headlands and waterways making up the majority of the peaceful settings surrounding the salt water Bras d'Or Lake. This is the perfect spot for lake watersports, finding out more about early European heritage and generally getting out and about on the beautiful island of Cape Breton.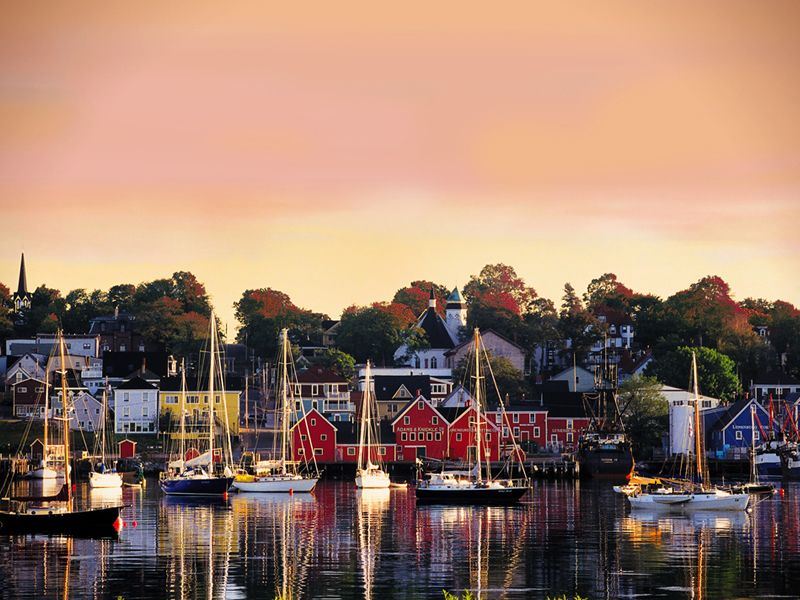 Find your perfect holiday
Talk to our friendly team
01342 331796
Call us Mon-Sun 9am-7pm